Remarks from Grzegorz Bierecki, president of the National Association of Cooperative Savings and Credit Unions (Poland), at the board chair installation ceremony at the World Credit Union Conference in Ottawa, Canada, July 16, 2013.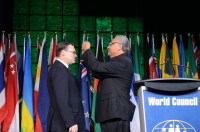 Incoming World Council Chair Grzegorz Bierecki (left) receives the chain of office from outgoing Chair Manuel Rabines (right) during the World Credit Union Conference general session on July 16, 2013.

I did not know the chain Manuel passed on to me would be so light.
I did my time in chains... and then, a long time ago, I chained myself to credit unions.
It was twenty-four years ago when I saw these words on a wall of a Kansas building: "not for profit, not for charity, but for service." It was with this sentence that my study of credit unions began; not with management, not with accounting, not with technology — these would all come later. I began with the most important question: the question of purpose of credit unions. And the answer to that question sat there glittering in golden letters in front of my nose on that Kansas wall. That purpose is worth all our efforts and all our hearts. It is the only way to achieve results.
This chain is the highest honour bestowed by the global credit union community. It is a great honour to be chosen by those chosen by credit unions and credit union members. I want to thank those who gave me help and advice over the last twenty-four years, my friends from the international credit union movement, my friends in Poland, and my family. It is wonderful to have you here now.
Dear friends!
We are so different from other financial institutions because we attract the special kind of people, the sensitive people who are not only active in their local communities, but also never turn a deaf ear to calls for help from the most distant parts of the world. These are the people who do not ask themselves the question of why they should help someone so far away if there is so much poverty in their own country; they are moved by every cry for help and ready to help everyone.
I am happy that this conference brought together in Ottawa almost two-and-a-half thousand people; people from rich countries who have money and things they can buy with them but who come here to make sure that they did not lose the things money can never buy, and people from less wealthy countries who know that we are never so poor that we cannot afford to help another man. You are all great, sensitive people and I am proud to be here among you.
There are those who tell us that today, during crisis, we should limit our development activity. Government agencies, guided by their own budget constraints, devote increasingly less resources to that purpose. We should pay no heed to those who speak of limitations; it is now, in times of crisis, when people need their credit unions. The history of credit cooperatives gives us examples of practical action; Pope Benedict the Sixteenth wrote in his encyclical "Caritas in veritate" that credit unions are an example of love acting in economy.
"If love is intelligent, it can find a way to act that is prudent, right and profitable."
It is my impression that during this conference we create solutions for our task of international credit union development. The Canadians helping in Malawi, the Poles in Belarus, the Irish in Albania, the Americans in so many places... Being asked for help means being worthy. How much could we do if each World Council member joined the effort of supporting credit unions worldwide? What World Council members do results from the very existence of WOCCU, of its philosophy of action promoted among and by its members.
WOCCU is not alone in its development efforts; it shares its experience, its advice, its coordination. That help, which in the end comes from credit union members, provided reasonably, will not be wasted. It will be used prudently. I am certain of this because I am not speaking of assistance approved by the Congress and coordinated by government agencies. I am speaking to you, dear friends, of applying the logic of community and brotherhood to our efforts for the international credit union development.
Ladies and gentlemen, WOCCU's most important role is to develop guidelines for the best practices of credit unions based on the experience of its members. Model regulations serve best the good development of credit unions. It is this, our documented best experience, that should form the foundations of credit union regulations; we must keep up our argument towards that goal, thus protecting the uniqueness of credit unions. In this, we are right. Working together with international institutions developing the relevant recommendations influencing credit union activities worldwide is a task that no one will perform better than WOCCU.
Finally, our pope's last recommendation: profitability. We must find a way to use the credit union funds to support the development of credit unions in a profitable manner. We will achieve so much more if we do not rely solely on donations; after all, we are not for charity...
Investing credit union funds in the development of other credit unions is a tool we have been hesitant to use widely. In the same countries where WOCCU had its projects, banks made investments and achieved substantial results. We can do the same, not for the benefit of external shareholders but to fight poverty, despair and usury.
And so, dear friends...
If love is intelligent, it can find a way to act that is prudent, right, and profitable. I ask you: do not ever run out of such love.