Existing Networks Prove Critical to Disaster Recovery
Feb. 3, 2010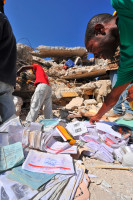 KOTELAM's Magoire Ambrose branch office in Port-au-Prince suffered severe damage. Staff members are still sifting through the wreckage and have set up a special office to aid members who have lost their records and identification.
In the dizzying aftermath of the Jan. 12 earthquake that leveled much of Port-au-Prince, a credit union association in the neighboring Dominican Republic mobilized to collect and deliver emergency supplies to its counterparts in Haiti. Credit unions left standing helped displaced members of other institutions get into their accounts with biometric identification cards and receive much-needed remittances. Established credit union networks proved critical in providing immediate relief and access to funds.
Federation Le Levier, a US$52 million-asset network of 16 credit unions serving 300,000 Haitians nationwide, is one such network helping frontline institutions that serve poor and low-income populations push crucial resources out to their members. The network lost five staff members in the earthquake, and eight of Le Levier's member institutions were damaged. Three of the institutions lost key offices to serve their 50,000 members: KOTELAM, CLEF and CPSA. KOTELAM, the largest credit union in Port-au-Prince, suffered severe damage to its headquarters, credit office and a branch office. In nearby Leogane, CLEF collapsed entirely, and looters took safes and equipment from both CLEF and Port-au-Prince-based CPSA.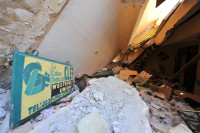 What remains of CLEF's building in Leogane.
Le Levier is working with these damaged credit unions to find alternative means of providing financial services to their members. At the same time, the federation is immersed in stabilizing displaced staff, identifying new premises and re-establishing contact with its members to aid their recovery efforts. The Dominican Republic's credit union association, AIRAC, is securing tents and basic food supplies for Pétionville-based Le Levier staff members — some without homes — who are working around the clock with a damaged office building to rebuild the federation's network systems.
Supported by U.S. Agency for International Development's (USAID) Haiti mission, Le Levier's investment last year in biometric ID cards and inter-institutional connectivity among its members is greatly facilitating recovery. At the time of the earthquake, members had mobilized total savings of US$35 million and had a credit portfolio of US$30 million. The ID cards permit members from each of the 16 affiliated credit unions access to their accounts at any other member institution.
CLEF members in Leogane are accessing their accounts at a nearby branch office of Le Levier member COSODEV. Credit unions in the same geographic zone are also sharing facilities in order to accommodate member institutions that have lost their buildings. Though destroyed in the earthquake, KOTELAM is creating a special office to aid members who have lost their records and identification. Rural credit unions that were structurally unaffected are providing teller space and responding to the high demand for liquidity.
Le Levier and its members have been key partners of the Haiti Integrated Finance for Value Chains and Enterprises (HIFIVE) program, which began in June 2009. The program, which was designed to encourage a dynamic Haitian economy by increasing the availability of financial products and services, is now working to rapidly mobilize initiatives to support economic recovery following the earthquake. The program is implemented by World Council of Credit Unions (WOCCU) under USAID's FIELD-Support Leader with Associates (LWA) cooperative agreement managed by the Academy for Educational Development (AED) and funded by USAID. TechnoServe is providing additional marketing support for value chains involved in the program.
WOCCU is coordinating a meeting with its microfinance partners, including Le Levier, and other financial service providers in Haiti this week to share information, review damage assessments, coordinate financial and technical assistance, discuss financial sector priorities for providing relief and rebuilding and look at longer term priorities in view of Haiti's new realities. Core HIFIVE partners ACME, FINCA, FONKOZE, MCC, MCN and Sogesol will also attend. The coordination of these institutions through both formal and informal networks will be crucial for restoring much-needed financial services to the people of Haiti.
Learn more about WOCCU's work in Haiti through the HIFIVE program: http://hifiveproject.org/.
Photos by Christian Kober