Haiti's Credit Unions Face More than Structural Challenges
April 7, 2010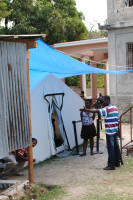 Members line up outside MAMEV credit union's two-room tent office to conduct business.

While weak and unsafe infrastructure continues to plague Haiti's credit unions damaged in the Jan. 12 earthquake, members who have lost everything now pose an even greater risk to the institutions as they struggle to rebuild.
Credit unions in Haiti are self-funded, with members' savings the only source of capital on their balance sheets. Members whose homes were damaged, assets lost and family members killed in the earthquake are now draining their savings or keeping the little savings they have in the institution as collateral for loans they can no longer repay. As a result, credit unions lack the necessary liquidity to lend to medium and small enterprises, which will play a critical role in jumpstarting Haiti's economy.
"Haiti's credit unions are already facing physical challenges that include structural damage, logistics and computer connectivity, but many of them will soon be facing grave issues regarding their capital positions," said Greta Greathouse, chief of party for the USAID-funded Haiti Integrated Financing for Value Chains and Enterprises (HIFIVE) program managed by World Council of Credit Unions (WOCCU) under the FIELD-Support LWA cooperative agreement. "If members can't repay their loans, credit unions could lose all of their net worth...and then some."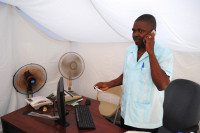 Jean Sanon Bozil, MAMEV CEO, and his staff serve the credit union's members just outside their crumbling building.
MAMEV credit union, located between Port-au-Prince and the earthquake's epicenter at Leogane, lost much of its liquidity when members withdrew their savings to meet emergency needs immediately following the disaster. As members' lives have begun to stabilize, deposits have started returning to the credit union, but not at the level necessary to offset portfolio losses. Credit unions throughout the country, whether quake-damaged or not, face similar scenarios and fear economic consequences on top of already crippling logistical challenges.
Like some of its counterparts in the area, MAMEV staff is facing such challenges while working out of a two-room office tent supplied by WOCCU. The loan department conducts business in open air behind the tent, on folding tables under a tarp.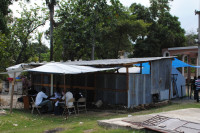 Members complete credit union loan applications under a tarp at the rear of the tent and tin-roofed shed that now constitute MAMEV's offices.

Tents have become critical currency for Haiti, sections of which have lost their capacity to house the population. Through its HIFIVE offices, WOCCU already has distributed close to 50 tents of varying sizes to credit unions in need. But April's rains, followed by a May-to-November hurricane season, will threaten the sustainability of the credit unions dependent on tents to continue operating and serving members.
"It has been a disaster," said Jean Sanon Bozil, MAMEV general manager. "Employees' houses have been destroyed, and they are living outdoors under the trees. They are operating at a reduced capacity because of fears about their living conditions, and many need psychological counseling."
Credit union officials agree that more permanent structures — including possible repairs to MAMEV's existing building — will become more critical in the face of the imminent rainy and hurricane seasons. But the number of people dependent on the next step reaches beyond credit unions and their employees.
"If people have a house or tent, chances are they have between five and 20 relatives living with them," Greathouse said. "With prices climbing since the earthquake ... it's already become that much harder to care for family members' needs."
Long-term financial stabilization will depend on infrastructure, recapitalization and increased liquidity to be able to continue operating and make loans to jumpstart the economy. WOCCU's HIFIVE program has provided tents to many institutions and is working with Haiti's central bank, which is also the credit union regulator, and Federation Le Levier, a credit union trade association in Haiti, to address the credit unions' liquidity needs.