Give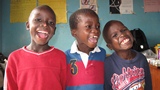 Give to World Council's Foundation and
Join the Global Movement.
Give Today!
Learn More
Afghanistan - Meet Enzar
When Enzar Gull lost both legs, his left arm and two fingers in a landmine, he had to find a new way to support his wife and two children. So he turned to the one skill he knew well: gardening.
Enzar used his knowledge as a former hospital gardener to convert his small plot of land into a plant nursery, but he needed money for fertilizer. In his small village, he could only borrow from business people who charged very high interest rates, which would leave him with very little income.
When Enzar heard about a local credit union supported by WOCCU, he joined and applied for a loan at a much more affordable rate. No longer at the mercy of usurious lenders, he received the credit he needed to buy fertilizer. His income instantly doubled, and he has since applied for a second, larger loan to expand his business. "Business is good and my family's future is brighter than ever," Enzar said.
 

Colombia - Meet Delmar

Delmar Luz Cordoba and her husband once farmed their family land in Chocó, the Colombian state bordering Panama. When right-wing paramilitary troops threatened to kill Cordoba's husband nine years ago, the couple gathered their six children and fled south to Pereira, a small city on the edge of the country's vast coffee fields. With no land to farm and no experience in urban living, the family turned to local social service agencies for help.
Through a Catholic-run charity, Cordoba learned about COOPLAROSA, a credit union that had helped other desplazados, or "displaced ones." Cordoba joined the credit union and has since received several small loans, enabling her to open a tiny shop that sells food products, toiletries and cosmetics. "COOPLAROSA has never turned me down," Cordoba said. "Without their help, we never would have survived." 
Haiti - Meet Pierre

Pierre Durandisse is a church pastor and farmer who cultivates several small plots of corn, peas and cassava, a tropical root vegetable. When the earthquake struck in January, his church collapsed and he watched from his yard as his house suffered the same fate. Pierre now sleeps under the trees and holds services in a makeshift shelter. Thankfully, he had already harvested his crop by the time the earthquake struck, and though he had lost his home and his church, he still had his small business. With his local credit union one of the few enterprises still operating in post-earthquake Haiti, Pierre was able to deposit money from the crop he had harvested just before the disaster. 
Kenya - Meet Benadette
Benadette, a widow and mother of five, has been a volunteer early childhood teacher at Busia Compassionate Centre since 2003. She teaches 27 six-year-olds in a small, concrete floor classroom with little furniture and fewer books. Though she struggles personally to make ends meet as a volunteer, Benadette said the children are quite bright, and she loves teaching them. The orphans have received school scholarships through the local credit union, and they started a garden project with WOCCU's guidance to ensure they have regular, nutritious food while learning farming skills and responsibility. 

Mexico - Meet Reina and Rofina

Reina Hernandez, 24, and Rofina Cruz Martinez, 29, are a part of an isolated indigenous community in Mexico. The remoteness of their village, in addition to speaking Spanish as a second language, made working outside the home nearly impossible until five years ago when a newly constructed road provided their community access to a nearby credit union. Through the credit union, the community was able to secure a loan to build a food distribution center to serve the surrounding villages.
Now, Reina and Rofina work at the center, helping distribute beans, rice and sugar. According to Reina, "Before [the distribution center was built] we had nowhere to work. Now we can bring in a consistent cash flow." With the help of savings and loan services from the credit union, Reina and Rofina have created stability for themselves and their family's future. Their credit union, Caja Zongolica, is a member of WOCCU's program in Mexico.
Sri Lanka - Meet Jothaline

When U.A. Jothaline, 62, visits the Women's Coop, she often brings along the fruits of her labors for friends at the branch office, located in a small, darkened room adjacent to the volunteer treasurer's house.
Jothaline and her family raise cattle and farm a four-acre rice paddy and one acre of vegetables. It's an enterprise the three have maintained for more than 30 years. Compared to many of her neighbors, Jothaline is a prosperous entrepreneur, success she attributes in part to her seven years of membership at the Women's Coop.
Loans have been essential in helping Jothaline survive rough periods, including the inevitable blight that attacks the area's rice crops. Jothaline's role as part of a women's borrowing group has enabled her to prosper and even establish a small savings account.
Philippine Disaster Donors
Barbados
Drayton Carter (St. Thomas)
Bermuda
BIU Members Credit Union Co-op. Society (Hamilton)
New Zealand
Credit Union Baywide (Hastings)
First Credit Union (Hamilton)
New Zealand Association of Credit Unions (Auckland)
Steelsands Credit Union (Auckland)
Trinidad and Tobago
Canning's Employees' Credit Union Co-Operative Society Ltd. (Port of Spain)
United Kingdom
The Co-operative Credit Union (Liverpool)
Ella Ferris (Nottingham)
Graham Richings (Gloucester)
United States of America
Clark County Chapter of Credit Unions (Vancouver, Washington)
Pacul Services, Inc. (Harrisburg, Pennsylvania)
Chris Baker (St. Mary's City, Maryland)
Dominica Barber (Oakland, California)
Susan Bryan (San Francisco, California)
Eloisa Chavas (Fitchburg, Wisconsin)
Mary Ann Demczak, CUDE (Burgettstown, Pennsylvania)
Betty DeWeese (Longview, Texas)
Ed & Eileen Fadely (Dover, Pennsylvania)
Amy Fuller (Atlanta, Georgia)
Kathy Garner (Flower Mound, Texas)
Peter Graves (Washington, District of Columbia)
Ron & Marsha Hance (Rutland, Vermont)
Kimberly Hester (Rancho Cucamonga, California)
Anthony Hinds (Bear, Delaware)
Jeffrey Jones (Zebulon, North Carolina)
Robert Kimmett (Winchester, Massachusetts)
Michael McCartney (Fairfax, Virginia)
Karen Mensinger (Grapeview, Washington)
Richard Miller (Bowling Green, Kentucky)
Greg Moore (San Clemente , California)
Robin Myers (Bayside, New York)
Calyn Ostrowski (Madison, Wisconsin)
Louie Penaflor (Portage, Wisconsin)
Donna Phan (Sugar Land, Texas)
Jackie Ross (SHELTON, Washington)
MORRIS RYAN (ISSAQUAH, Washington)
Bob & Diane Schumacher (Walla Walla , Washington)
Judith Shaffer (Redondo Beach, California)
Gerald and Carla Singleton (Bozeman, Montana)
Kathleen Smith (Madison, Wisconsin)
Kevin Smith (Madison, Wisconsin)
Marion Smith (Briarwood, New York)
Michael Spink (Durham, North Carolina)
Judy Tharp (Advance, North Carolina)
Sarah Turner (Oakton, Virginia)
MECU Foundation (Baltimore, Maryland)
CREDIT UNIONS AFFECTED: FACTS & FIGURES
According to a November 18 report by the Philippine National Disaster Risk Reduction and Managment Council,Typhoon Haiyan has killed 3,976 individuals, injured 18,175 and displaced 850,808. Ten million people have been affected as the superstorm ravaged homes in villages such as Tacloban, destroying "every single building, every single house," according to U.S. Marine Brig. Gen. Paul Kennedy in a USA Today report.
Forty cooperatives in the the National Confederation of Cooperatives (NATCCO) network have been affected by the typhoon including 500 staff members; and this number is expected to rise since not all credit unions within the network have submitted their reports. Typhoon Haiyan's greatest impact on credit unions is in Leyte, Eastern Samar, Capiz, Tacloban and Cebu municipalities and has the potential of distressing 1.5 million cooperative members. 
Immediately after the storm, many credit unions visited or sent text messages to ensure staff and members were alright. The capacity to restore financial services is depending on the level of damage to each credit union facility. Generally, many cooperatives opened within one week after the typhoon and are currently running on generators. However, three credit unions in Leyte have not re-opened as well as the largest credit union in Tacloban City that has been severely damaged from wind and flooding.
Types of financial services and operations vary among cooperatives; however, most are trying to provide members with access to their savings. In many cooperatives members are requesting access to calamity loans so they may begin to rebuild their lives; while others who have such insurances are beginning to process their claims. In Cebu, credit unions are offering members access to generators so they can charge their cellphones.
As new information becomes available we will update this website. Please continue to check back or contact us if you have any questions.
WORLD COUNCIL RESPONSE
Credit unions and their members have been deeply affected by this disaster. World Council is working with the Association of Asian Confederation of Credit Unions, NATCCO and VICTO National Cooperative Federation and Development Center, as well as other credit union connections on the ground, to assess credit union damages and strategize on how we might best respond to their relief needs.
World Council is also coordinating response efforts among the Asian, Australian, American, Canadian and Irish credit union systems to maximize impact and ensure credit unions have the resources they need to provide immediate and long-term services for their members.
The Worldwide Foundation for Credit Unions, World Council's official gift-receiving and grantmaking entity, is committing financial resources to help credit unions and their members rebuild. Donations are currently being collected and thanks to CUNA Mutual Group's existing disaster fund with the Foundation, a grant of $15,000 has already been given to NATCCO for rebuilding efforts. 
HOW DONATIONS WILL BE USED
NATCCO and VICTO will receive a grant from the Worldwide Foundation and funds will be used to support the rebuilding efforts of credit unions in the affected areas. Your contribution will help purchase institutional-capacity items such as office equipment, generators, computers and furniture as well as the necessary rebuilding materials so the organization can assist members and help them be resilient during this devastating time. Foudnation grant recipients are required to provide the Worldwide Foundation with an itemized report and we will share progress with our donors as information is received. 
WORLD COUNCIL PHILIPPINE EXPERTISE
World Council has worked with Philippine credit unions since 1996 and the most recent project focused on model credit union building and institutional branding.Following the 2006 Philippines landslide in Leyte, World Council supported the local league's administration of "livelihood loans," small microloans that helped credit union members and employees rebuild their homes and businesses.
In 2010, World Council received presidential commendation in recognition of its credit union development work in the Philippines. In 2002, World Council received the prestigious Herb Wagner Award from the National Credit Union Foundation for its Philippines Credit Union Empowerment and Strengthening program that transformed eleven credit unions from small and insolvent institutions to self-sustainable credit unions.
DONATE: To get involved with World Council's disaster response please donate here.
Philippines Typhoon; Credit Unions, Members Affected
MADISON, Wis. — In the wake of super typhoon Haiyan, one of the most powerful storms ever recorded, World Council of Credit Unions is in contact with local authorities in the Philippines and our Australian member, Customer Owned Banking Association, to assess how to best help the 4.5 million people affected.
According to reports, typhoon Haiyan has killed an estimated 10,000 people. The situation has the potential to worsen should displaced credit union members and others not receive necessary assistance. World Council has worked with Philippines credit unions since 1996 and the most recent project focused on model credit union building and institutional branding. According to World Council's 2012 Statistical Report, there are 1,320 credit unions in the Philippines serving 4.3 million members last year.
World Council has led relief and rebuilding efforts during past international disasters, including the January 2010 Haitian earthquake, February 2006 Philippine Islands landslide and December 2004 Asian tsunami. Following the Haitian earthquake, World Council led a $1.2 million dollar project to provide immediate relief, provide shelter and revitalize the country's credit union system. Following the 2006 Philippines landslide in Leyte, World Council supported the local league's administration of "livelihood loans," small microloans that helped credit union members and employees rebuild their homes and businesses.
World Council is now prepared to provide disaster relief to credit union staff and support credit union rebuilding efforts following this latest disaster. Much-needed cash contributions from credit unions and individuals will provide assistance to those whose lives have been devastated by this terrible disaster.
To support the international credit union disaster relief fund and rebuilding of Philippine credit unions, payments via check, credit card or wire may be sent to:
Worldwide Foundation for Credit Unions, Inc., 5710 Mineral Point Road, Madison, WI 53705, USA.
Individuals may make donations with a credit card online at www.woccu.org/give; credit unions may wire funds. For additional information, contact: Calyn Ostrowski, Director, Worldwide Foundation for Credit Unions, +1-608-395-2056 or via email at costrowski@woccu.org. Please indicate that your donation is designated for Philippine Disaster Relief Fund.
World Council of Credit Unions is the global trade association and development agency for credit unions. World Council promotes the sustainable development of credit unions and other financial cooperatives around the world to empower people through access to high quality and affordable financial services. World Council advocates on behalf of the global credit union system before international organizations and works with national governments to improve legislation and regulation. Its technical assistance programs introduce new tools and technologies to strengthen credit unions' financial performance and increase their outreach.
World Council has implemented more than 290 technical assistance programs in 71 countries. Worldwide, 56,000 credit unions in 101 countries serve 200 million people. Learn more about World Council's impact around the world at www.woccu.org.

Contact:
Rebecca Carpenter
Organization:
World Council of Credit Unions
E-mail:
rcarpenter@woccu.org
Phone:
+1-608-395-2031
Rooftop of one of the major credit unions in Leyte
Photo courtesy of NATCCO


Inside a credit union in Eastern Samar that has been damaged by Typhoon Haiyan
Photo courtesy of NATCCO

Credit union members line up outside the office in Leyte
Photo courtesy of NATCCO
Credit union member wait for relief
Photo courtesy of NATCCO
Credit union members gather after the storm to gain access to financial services
Photo courtesy of NATCCO