Congratulations to the winners of the 2016 WYCUP scholarship!
The following outstanding young professionals were awarded by an international committee an all-expense-paid
attendance of the 2017 World Credit Union Conference in Austria.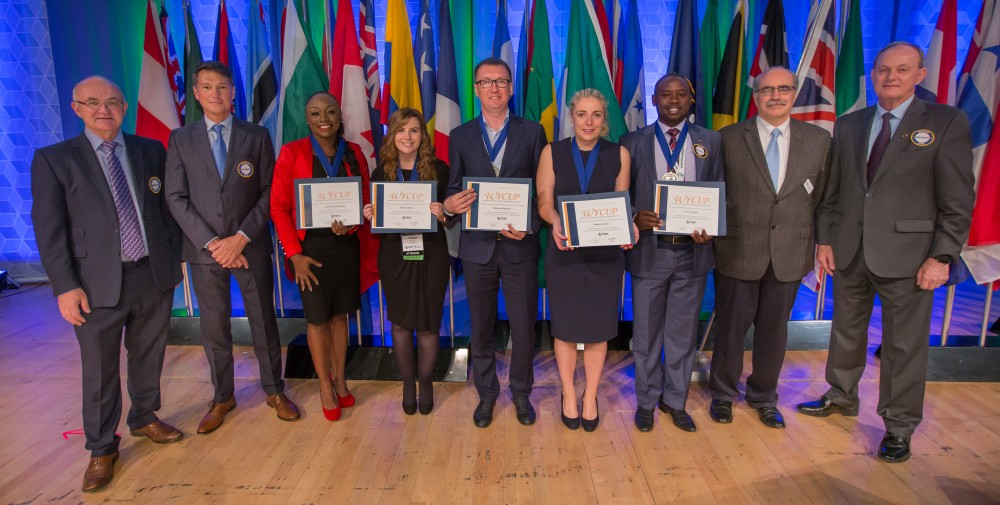 Henrique D'Azevedo Canal, Credit Product Specialist, SICREDI, Brazil

"I can definitely say that [WYCUP] was the most amazing experience I had since I started my carreer. I met so many amazing people and we are still in touch."

Watch Henrique's video

Stephanie Sievers, Chief Executive Officer, ANECA Federal Credit Union, USA

"We try not to think always: so, what's the return? Because the members are the return. Getting members involved, having members enjoy coming into the credit union — that's our return."

Tanya Brown, Business Relationship Officer, Jamaica Cooperative Credit Union League, Jamaica

"Eternally grateful to have been apart of such an amazing group of young people sharing common interest and having similar passion for the Credit Union Movement. I have learnt so much and made so many awesome friends."

Jae Kim, Branch Manager, Servus Credit Union, Canada

"What an amazing experience! I'm looking forward to Belfast in 2016. I would love to get more involved with WYCUP and look forward to contributing for the upcoming conference."

Watch Jae's video

Lisa Totaro, Marketing Manager, Sunmark Federal Credit Union, USA

"I have a passion for helping young professionals grow and develop. I've had the privilege to be involved in those efforts in NY & the US, and am looking forward to meeting so many YPs from around the world!"

Watch Lisa's video

Leandro Hendges, Products and Services Manager - Loans, SICREDI, Brazil

"I'm really excited to join [WYCUP] in Denver... Hope to learn a lot with you...!!! Here's my video, that tells a little about the work we're doing here with young people... hope you like it!!!"

Previous Recipients of the WYCUP Scholarship
2014
2013
2012

Brian Aalbers, Canada
Wesley Diniz Alves, Brazil
Maire Doyle, Ireland
Miriam De Dios, United States
Edyta Grzybowska, Poland

2011

Yola Charles, Trinidad & Tobago
Michelle Coelho, Australia
Marcy Lovberg, Canada
Edel McKenna, Ireland
Tracia Pounder, Barbados

2010

Scott Daukas, United States
Carol Karugu, Kenya
Melia Keller,United States
Orla O'Shea, Ireland
Cas Scott, Australia

2009

Julie Ferguson, Ireland
Ross Lanbrick, Australia
Carolyne Luvembe, Kenya
Jeff Rout, Canada
Amy Stanton, United States

2008

Joe Agro, Canada
Anna Corona, United States
Nicholas May, Australia
Rachel Milan, Canada
Rafal Sokolowski, Poland

2007

Elizabeth V. Randall, United States
Izabela Rutkowska, Poland
Ryan Visscher, Canada
Stacey Walker, United States
Eleonora Zgonjanin Petrovik, Macedonia

2006

Tom Atkins, Canada
Alison Carr, United States
Anne-Marie Coffey, Ireland
Darcy Mykytyshyn, Canada
Shoba Gunasekaran, Singapore

2005

Sherri Fogwill, Canada
Tina Hall, United States
Karla Herrera, Guatemala
Michael Mack, Australia
Sandra Phillips, Canada

2004

Glenn Bolger, Canada
Catherine Coffey, Ireland
Hillary Jalafi, Malawi
Dorwin Manzano, Trinidad
Irwing Pinares-Silva, Peru

2003

Justine Conley, Australia
Jeanne Kim, United States
Jan Knowles, Bahamas
Malcolm Stoffman, Canada
Katarzyna Uniwersal, Poland

2002

Rod Ashley, United Kingdom
John Klassen, Canada
Skott Pope, United States
Maurice Wright, Jamaica
Amy Penick, United States

2001

Mary Baxter, United States
Grzegorz Buckowski, Poland
Bradford Caldwell, United States
Lana Catalano, Canada
Andrew Leys, New Zealand