International Partnerships
View the Annual Report 2016

World Council currently facilitates
16

international credit union partnerships.

World Council's International Partnerships Program unites credit union movements from around the world to exchange ideas, best practices and technical expertise. The International Partnerships Program builds stronger institutional capacity that ultimately benefits credit union members while demonstrating the cooperative ideals that characterize credit unions and distinguish them as financial institutions.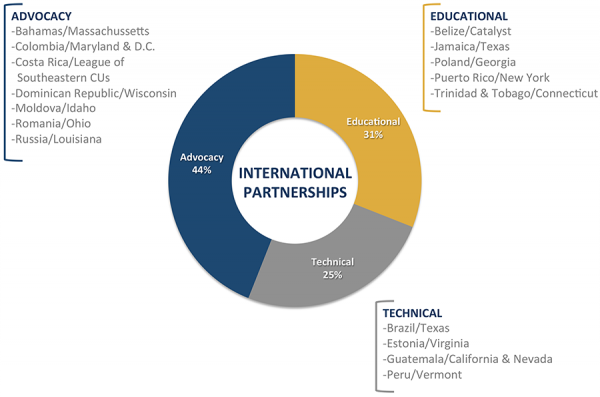 Partners have engaged in many activities overseas by providing guidance and expertise to their international partners. Here are a few examples:
Cornerstone Credit Union League and SICREDI — Single brand approach, young managers training
Ohio and Romania — New partnership in 2011, focus on industry awareness and modern marketing techniques for credit unions
Minnesota and Paraguay — Regulation and examination of credit unions, advocacy and high-level governmental relations
Caja Yanga and Servus Credit Union — Introduction of credit union-owned ATM networks
How we start partnerships
World Council seeks to match its members and supporters, both in emerging and developed countries. The partnership is established when each organization, accompanied by World Council, visits its potential partner to observe operations and determine common areas for work.


Why enter into a partnership
Business opportunities, forging long-lasting relationships with industry peers overseas
Engage in international credit union development alongside World Council of Credit Unions
Recognition as a forward-thinking and progressive industry leader
Selling point of the "credit union difference" to members and congress
Commitment
Agree to conduct two-to-four joint activities in a year. All partnership activities are implemented in a non-intrusive manner to respect each credit union's internal operations. Partnering countries agree upon partnership activities in semiannual planning sessions. A partnership activity could take many forms, including:
Hosting a delegation from the partner country.
Coordinating visits to the league office or credit unions in your state.
Sending materials, manuals and bylaws to the partner country.
Traveling to the partner country to address their annual general meeting.
Presenting on a specific industry topic or meeting with government officials.
Willingness to become a World Council Supporter. When your annual commitment is designated to your partnership activities, World Council would apply it to supporting the partnership activities with your partner country. World Council suggests a silver (US$5,000–$9,999) or gold (US$10,000–$24,999) annual contribution. All World Council Supporters will be listed by recognition level in World Council publications, our website and at our conferences. World Council Supporters are also invited to two annual recognition receptions — one at CUNA & Affiliates' Governmental Affairs Conference (GAC) and one at World Council's World Credit Union Conference. With your payment receipt, you will also receive a special Supporters report on activities made possible by your support. The report is in CD-ROM PowerPoint format, suitable for reporting back to your constituency or board.
Partnership lifespan
We recommend a three-year agreement and the commitment to work on two-to-three main focus areas. The agreement would be automatically renewed unless one of the parties withdraws.
For further information, contact:
Thomas Belekevich
International Partnerships & Training
Phone: +1-608-334-6646
Email: tbelekevich@woccu.org