Matt Garcia, WOCCU

October 2011
COLOMBO, Sri Lanka — It was a very exciting day as we set out to explore a new area of Sri Lanka I hadn't previously seen. We were heading into Kandy, the country's central tea growing district. Our goal was to help diversify the agricultural lending portfolio for Women's Development Services Co-operative Society Ltd., or Women's Co-op, the 120-branch credit union with which World Council of Credit Unions' (WOCCU) Sri Lanka development program works to expand women farmers' access to financial services.
Their agricultural mainstay — more than 90% of the acreage — had been devoted to rice. But relying too heavily on just one crop can spell disaster for farmers when inclement weather or a poor growing season leads to a reduced yield. In order to limit risks, it is necessary to diversify production by expanding into different crops, and during this particular journey we were interested in potatoes.
Potatoes are not the first thing that comes to my mind when I think of Sri Lanka, mainly because the climate here differs so greatly from the high Peruvian Andes where the vegetable is said to have originated. Since potatoes are generally grown at higher altitudes, the crop doesn't suffer when floods drown the rice paddies below. This aspect alone made potatoes an appealing alternative.
I was envisioning driving into a mountainous region and finding the potatoes planted safely on a plateau as they were in the Andes. I was both pleased and troubled by what I found.
I was pleased because I found the area both diverse and beautiful. Driving through the winding turns along steep cliffs, we wove in and out of tea plantations and past several waterfalls. The views were awe-inspiring. It was when we arrived at the potato plantations that I became troubled. In order to observe the fields, we had to climb up and down the steep hillsides to reach the terraces where the crops were planted. Panting and short of breath, I wished I exercised more regularly. That was troubling.
It was apparent to me that the members of Women's Co-op take a great deal of pride in their crops. The potato plants were virtually free of weeds thanks to regular maintenance, and the crops looked as though they would produce a plentiful harvest. I think the diversification of crops to include potatoes is a good move by these skilled farmers, especially as WOCCU's lending methodology, previously developed in other parts of the country, is transferred to the Kandy region.
Many other vegetable crops such as carrots, leeks, beets, squash and maize grow there successfully and can all become part of a diversification strategy that helps farmers protect against crop failure. Adding potatoes to the list will allow them to build an even more sustainable income and a more secure future for themselves and their families.

Isaac Hacerola, WOCCU

August 2011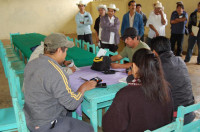 Group members wait patiently as each one takes a turn meeting with the rural financial officers to deposit their savings and verify their account balances. Each member receives a record of the transaction printed on a handheld printer.
MIAHUATLÁN, Mexico — We set out just after dawn from our hotel in the mountain city of Cordoba, Mexico, to give ourselves enough time to reach the remote mountain village of Miahuatlán before our late-morning meeting. Our group, including WOCCU staff members and led by President and CEO Brian Branch, was there to witness some of WOCCU's most innovative financial service delivery technologies at work in the field.
After an hour in a van, we arrived in a small valley town surrounded by vast sugarcane fields. We parked outside a branch office of Caja Yanga credit union where we were greeted by two ejecutivos financieros rurales, or rural financial officers, whom we would accompany into the surrounding mountainside communities to which they deliver financial services using personal digital assistants (PDAs) and handheld printers to conduct transactions. We embarked on foot toward the edge of town and onto a trail of meticulously placed mud-covered stones. During our ascent, we slipped and slid for nearly two hours as elderly men carrying huge bundles of palm leaves and school children in unsoiled stockings and shoes bustled past us, going about their daily routines.
When we finally arrived in the village square, community members gathered to meet with the credit union officers. The group leader announced our visit and everyone lined up to meet with the officers individually. I was struck by the public nature of the meeting. Everyone waiting witnessed their friends' and neighbors' transactions, allowing for little of the financial privacy we expect back home.
We mingled among the members to hear their stories and perceptions. Many worked as farmhands in the cane fields, cultivated coffee or harvested palma grasena, a small green palm used in the production of U.S. dollar bills. For most, this was their first experience with formal financial services, a huge step in a culture where savings is typically kept in cash or goods, if at all. Members opened accounts and committed to saving a minimum amount each month. Community members later asked the credit union to start a youth savings group so their children could learn to save.
Although the pace and scale of the local economy here was vastly different from that of many other places around the world, the core principles were the same — savings and access to convenient and affordable financial services were key to growth. The people of Miahuatlán were taking steps to improve their lives one step at a time. It makes me hopeful to think that through increased access to financial services, people in communities like this one can experience brighter futures while still maintaining their traditional lifestyle, diminishing the need to leave home in search of a better life.

Saul Wolf, WOCCU

June 2011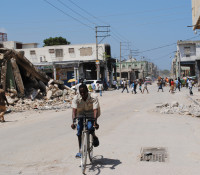 A lone bicyclist travels amid the concrete rubble that still characterizes downtown Port-au-Prince.
PORT-AU-PRINCE, Haiti — If you've visited Haiti recently, as I have, you know not much has changed since the earthquake. Eighteen months later, potholed streets still wind themselves around uncollected piles of concrete rubble and masses of humanity struggling to meet their own basic needs. Amidst the heavy, charcoal-tinged air, one senses the tension and desperation, crackling in the air like an exposed live wire threatening to arc at any moment. There are no easy fixes and the future remains uncertain. But that's life in Haiti.
In order for people here to build a better life — to do more than just survive — Haiti's democracy and government must improve. Despite efforts by countless exceptional and dedicated Haitians, the country still lacks the common ground needed to equitably pool and share the few resources it has. Haiti's credit unions are uniquely positioned to help fill that void.
Food, water and shelter are scarce in Haiti, procured at great cost by the wealthy few, while the poverty-stricken masses struggle for pieces of what is left. The earthquake surely exacerbated that struggle but all Haitians, including the wealthy, are harmed by Haiti's extreme inequality.
Water trucks, dirty streets and diesel-powered generators became poor substitutes for running water, functioning sewers and electric utilities. Bribery, corruption and violence too often rule in place of public order and an effective judicial system. Armed security guards, walls topped with razor wire and armored SUVs operate in lieu of a police force. The wealthy suffer psychologically. The Haitian elite fear armed kidnappings, know better than to use one of a handful of functioning ATMs and drive maniacally at night to avoid being robbed at gunpoint.
Credit unions are a critical part of the solution. By engaging their hundreds of thousands of members in the democratic elections and financial institution management, credit unions instill democratic norms and values which give way to reasoned discussion and local leadership. As member-driven institutions, credit unions promote the long-term interests of ordinary Haitians over those of shareholders or the international community. Through regulated financial services, credit unions offer a safe, equitable place to build wealth — the lifeblood of any economy.
Credit unions remain uniquely positioned to create the common ground necessary for the promotion of democracy and for ordinary people to improve their lives. WOCCU's work here develops credit unions' capacity to grow and to enhance their influence. Whether the local government and international community can fully capitalize on this potential remains in question; but, for now, Haiti's credit unions provide hope in an otherwise difficult place.


Jesús Chavez, WOCCU

April 2011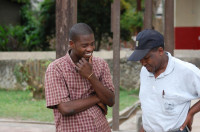 Gideon Nyamwange (right), former senior deputy commissioner of cooperatives in Kenya and one of WOCCU's consultants working on the Tanzania program, converses with one of the employees at a SACCOS training center in Dar es Salaam.

DAR ES SALAAM, Tanzania — I recently traveled to Dar es Salaam, Tanzania, to report on WOCCU's development program. In order to support the growth, safety and soundness of Tanzania's savings and credit cooperative societies (SACCOS), we are providing technical assistance to the country's regulators and improving management information systems. I was accompanied by two consultants that WOCCU hired to work on the program, Monnie Biety, a management consultant from the United States, and Gideon Nyamwange, Kenya's former senior deputy commissioner of cooperatives.
During our travels, we visited SACCOS on Zanzibar, the largest island in a semi-autonomous archipelago off Tanzania's coast. Zanzibar City, the island's capital, is referred to as "Stone Town" or Mji Mkongwe (Swahili for "old town") for its narrow stone streets and is a designated UNESCO World Heritage Site.
I know some Swahili, Tanzania's de facto language, from my previous work in Kenya, but the dialect spoken there is quite unique. People go out of their way to make their speech very proper and polite. It took some getting used to, but it didn't take long to understand people better.
As we walked the narrow streets, we made our way to the Anglican Church Cathedral, which is site of the world's last open slave market, where slaves from East and Central Africa were sold. I got a creepy feeling as we walked around the place. I could almost hear the screams coming from the walls! It is hard to imagine that the last slave market in the world is adjacent to a Christian church, with its ornate doors, cobblestone courtyard, dark history and yet so beautiful. The contrast was simply amazing.
It's also amazing is to consider how far things have come here. A place that was once the epicenter for the brutal slave trade now boasts cooperatively owned and democratically controlled financial institutions that serve members of all races and tribal affiliations, including some that are no doubt decendents of those slaves. The community has made great strides, but there is still work to be done.
Andrea Dannenberg, WOCCU

February 2011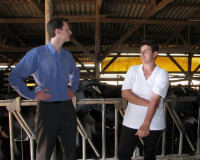 A representative from SICREDI Pioneira (left) meets with a farmer-member in the loafing shed for her heard of 80 cattle during a visit by WOCCU staff members.
NOVA PETRÓPOLIS, Brazil — How does a credit union system increase its membership by 15% annually? On a recent visit to Brazil, I saw firsthand why WOCCU member SICREDI has realized such success growing its membership in recent years. The key was its ability to reach rural members.
When we visited SICREDI Pioneira, its credit union in Pinhal Alto and one of the first in Latin America, we learned that it was founded initially to provide agricultural credit to farmers. The introduction of government-subsidized, fixed-rate agricultural loans made it difficult for SICREDI's credit unions to cover their agricultural lending costs because the interest was fixed at a rate too low to make the loans viable. This could have threatened the continued existence of the institution. Instead, SICREDI Pioneira saw it as an opportunity to expand their services.
To ensure the financial viability of serving rural members, the credit union developed a menu of needed financial products and services, including bill payment services, various savings products and insurance. Since many rural members previously lacked access to financial services, the credit union began offering bundled packages of products and services to rural members in order to better serve their needs and to make serving them financially viable. To say that these products were well received is an understatement. In the small and medium-sized municipalities served by SICREDI Pioneira, about half the population are credit union members. The Pinhal Alto branch manager could scarcely find a name in the local telephone directory that didn't belong to a member!
Building an institution trusted by rural members also has allowed SICREDI to benefit from Brazil's urbanization. When members move from rural areas to the cities they bring with them their credit union affiliation and loyalty to an institution they trust.
Clearly, SICREDI's commitment to service, and especially to its rural members, has paid dividends to both the institution and the people who use it.