Saul Wolf, WOCCU
December 2009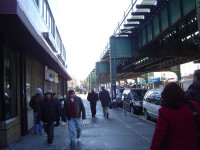 Well-known Roosevelt Avenue, the bustling commercial and cultural center of Corona, New York.In the background, New York's elevated metro line number 7 parallels Roosevelt while Spanish is heard on the streets below. View more photos
CORONA, N.Y.—As I walk block after block along Roosevelt Avenue, the main commercial artery running through the Corona section of the New York City borough of Queens, I am struck by how the neighborhood differs from other U.S. communities. I do not see nor hear a single word of English written or spoken. Formal financial institutions such as banks or credit unions are conspicuously absent. In their place, dilapidated check-cashing shops, ethnic restaurants and remittance agencies fill the storefronts that serve a population made up of largely Ecuadorian immigrants.
My guide, Fabio, claims that Roosevelt Avenue is a great street to spark philosophical debate. Every few minutes subway cars thunder by on overhead steel tracks, rendering conversation temporarily impossible. The forced silence encourages thoughtful responses, he says. Despite the obvious need, there are complex issues making it difficult for credit unions, or any financial institution, to provide services to Corona's residents. It's a debate more practical than philosophical in its origins.
Every year, tens of thousands of immigrants here send more than a billion dollars in remittances to countries across Latin America, making Corona extremely important to maintaining the financial health of Ecuador and other countries. I am here at the Ecuadorian government's behest, attempting to help connect local credit unions to those in Ecuador via international remittances services offered through the IRnet® program operated by WOCCU Services Group (WSG), the for-profit subsidiary of World Council of Credit Unions.
The Ecuadorian government is attracted to IRnet for more than just reasons of convenience. Throughout it's nearly 10 years of experience providing low-cost international money transfers, IRnet has been one of only a handful of commercially-viable programs worldwide interested in promoting the international development goals which remittances represent. The government knows both factors are critical to the financial wellbeing of its people, both at home and abroad.

It's too early to tell whether our current efforts will make a difference. Nevertheless, it feels good to meet so many committed people from Ecuador and the United States working to achieve this shared goal. Despite the challenges, there is little debate that it's a worthwhile risk to take.
Dave Richardson, WOCCU
Making a Difference in Rural Haiti
October 2009

PORT AU PRINCE, Haiti—In Haiti, a country where 80% of the population lives under the poverty line, school attendance is unacceptably low because many families can't afford to keep their children in school. Fortunately, the country's credit unions are taking steps to address this critical social issue.
Mutuelle Croissance Economique (MUCEC), a small credit union of 1,600 members located in rural southern Haiti, last year created "Crédit Scolaire" (School Loan) to help its members defray education costs. Even families with sufficient income may not have the necessary financial resources for school enrollment at the beginning of the year. These resource gaps cause children to enter school late, if at all, starting behind their peers and often being held back to repeat grades several times. This vicious cycle contributes to lower education rates, a factor that can be detrimental to economic growth.
MUCEC members responded to the loan program. Demand was so strong, in fact, that in August, the credit unions applied to the USAID-funded HIFIVE (Haiti Integrated Financing for Value Chains and Enterprises) program for further economic support.
WOCCU, which is responsible for managing HIFIVE and administrating a US$22.5 million grant fund, approved a small grant enabling MUCEC to make school loans of US$280 per student, helping needy Haitian members pay registration and school fees at the beginning of the school year. The loan program further allows parents to pay back the loans over the 10 months that school is in session.
The grant money also included funding to purchase three computers and "Loan Performer," a software program that will improve MUCEC's delinquency controls and accounting records. Many Haitian credit unions have outdated manual accounting and deficient filing systems which affect their ability to properly manage their loan portfolios. As the first recipient of the newly created grant fund, MUCEC is setting a good example for other credit unions to make a difference in their members' lives by providing solutions to their financial needs.
Mike Muckian, WOCCU
Life from an Acre of Land
August 2009

Malika Deepani with the crops that she will rely on to support her family throughout the year. View more photos
KALUTARA, Sri Lanka—At four degrees north of the equator, Sri Lanka boils in a stew of heat and humidity. The climate is perfect for growing rice, bananas and other cash crops, less so for those not used to its tropical rigors. I labor after my guide in the moist heat, traveling from field to furrow to talk with members of the 120-branch Women's Development Co-operative Society. The co-op, also known as Women's Co-op, partnered with WOCCU earlier this year to bring critical financial services to poor rural women, whose farming activities keep their families and local economies alive.
I meet several women responsible for tending agricultural operations, sometimes an acre or less in size, that provide their families' sole income source. Some are more successful than others, including K.D. Renuka Pushpakumari, who with her husband is adding a third chicken coop to their poultry operation that tops a rise of land too rocky to plow or plant. Others, like B.K. Padma, can barely afford the 5,000 rupee price (about US$43) for a 50-kilo bag of topsoil. She's forced to labor for others in addition to farming her own land.
But in all cases I see hope in these women's eyes, thanks to the support of their co-ops. Malika Deepani is a second-generation farmer responsible for one acre of rice and three acres of okra, potatoes and cucumbers. In a good year, the farmer's crops generate 6,900 rupees (US$60) per month for three months, income her family depends on for an entire year. The work is hard in the searing heat, but Malika is confident they will survive through the next nine months, thanks to her co-op's support.
I smile and nod at her story, more out of profound respect than mere courtesy. And I begin to understand why WOCCU is here.