2006 CUNA GAC BEGINS
League Holds Briefing And Accepts Awards
CCUL
March 07, 2006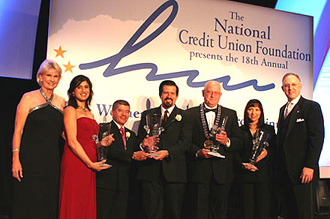 Representatives of the partnership to support Mexico's Caja Popular Mexicana: L-R: Mary Cunningham, Pasadena FCU CEO and League Diversity Committee Chairwoman Shruti Mayishiro, WOCCU Project Director Mario Galarraga, Caja Popular Mexicana CEO Ramón Imperial Zuñiga, Arizona Credit Union System President and CEO and WOCCU Board Chairman Gary Plank, Border FCU CEO Maria Martinez, and Steve Delfin
2006 CUNA GAC BEGINS League Holds Briefing And Accepts Awards
updated 02/26/06 11:15 PM
The 2006 Credit Union National Association (CUNA) Government Affairs Conference (GAC) got underway Sunday with a record number of attendees from California and Nevada.
More than 4,000 credit union leaders gathered in Washington D.C. to attend the conference and meet with their respective legislators on Capitol Hill. Nearly 270 of those are employees and volunteers from California and Nevada credit unions. The four-day event includes educational break-out sessions and several notable speakers, followed by Hill Visits at the conclusion of the conference.
Sunday's League-hosted events included a briefing of the issues on which the League is currently focusing its efforts. League President and CEO David L. Chatfield congratulated California and Nevada credit union leaders on their record attendance and noted their "special responsibility" in having to meet with 60 members of congress to spread the word about credit unions.
Several members of the League's Governmental Affairs Department—including Senior Vice President of Government Affairs Bob Arnould, Director of Federal Government Affairs Kelly Purcell, and Director of State Government Affairs Ron Fong—provided updates about such issues as the effects of the Rallies for Credit Unions and the importance of local grassroots movements; where the Credit Union Regulatory Improvements Act (CURIA) stands; and the status of a new Best Practices brochure that addresses concerns credit unions are having with the California Department of Financial Institutions (DFI) and the Nevada Financial Institutions Division (FID).
League Vice President of Research, Communication, and Public Affairs Lucy Ito then addressed the group about the latest developments in terms of data collection, which will offer a measurable result of the people of "modest means" who are aided by credit unions. The League currently has a pilot project underway, as well as being mindful of the National Credit Union Adminstration's (NCUA) efforts on the subject.
League Director of the Washington, D.C. Office Ryan Donovan ended the meeting with a briefing on the current climate in Washington as well as a discussion of how the political landscape will change throughout the coming year. He noted that data security is a new, and predictably lasting, issue of concern for credit unions. There are six committees currently working on legislation to address the issue—albeit, only within their respective jurisdictions, but nonetheless, he said this year is an important one for bringing new ideas to the table.
The afternoon briefing was followed by a night of celebration at the 18th Annual Herb Wegner Memorial Awards Dinner. The evening began with a very moving video that showed the devastation caused by Hurricanes Katrina and Rita, and how donations to the National Credit Union Foundation (NCUF) helped affected credit union employees get back on their feet.
"You touch people's lives in ways you don't even realize," said Mary Cunningham, NCUF Chairwoman and USA FCU President and CEO.
The California and Nevada Credit Union League was honored during the reception for contributing the largest League donation—$50,000.
This year, the League was also honored to be the recipient of the Herb Wegner Memorial Award for Outstanding Program, along with its partners, the Texas Credit Union League, Caja Popular Mexicana, and the World Council of Credit Unions (WOCCU).
Through a partnership that began in 2001, the partners in this program were able to revive Mexico's largest credit union, which was struggling with nearly 20 percent delinquency, annual net losses, and members losing confidence in the safety of their deposits. Throughout the following four years, countless cultural exchanges, site visits, infrastructure improvements, new product developments, and financial education programs took place.
The financial results are astounding. From December 2001 to June 2005, the credit union:
Reduced delinquency from 18.7 percent to 4.5 percent
Built assets from $472 million to $1 billion
Achieved positive returns on assets
Increased membership by 83 percent, from 477,396 to 874,293
Grew youth savings accounts by 2005 percent, from 2,336 to 183,795
Pasadena FCU CEO and League Diversity Chairwoman Shruti Miyashiro accepted the award on the League's behalf, saying, "This program is a shining example of the global accomplishments we as credit unions can accomplish."
The night's other awards winners were Bethex FCU President and CEO Joy Cousminer, who received the Herb Wegner Memorial Award for Individual Achievement; and Numerica CU President and CEO Dennis Cutter, who received the Herb Wegner Memorial Award for Lifetime Achievement.
World Council of Credit Unions is the global trade association and development agency for credit unions. World Council promotes the sustainable development of credit unions and other financial cooperatives around the world to empower people through access to high quality and affordable financial services. World Council advocates on behalf of the global credit union system before international organizations and works with national governments to improve legislation and regulation. Its technical assistance programs introduce new tools and technologies to strengthen credit unions' financial performance and increase their outreach.
World Council has implemented 300+ technical assistance programs in 89 countries. Worldwide, 68,882 credit unions in 109 countries serve 235 million people. Learn more about World Council's impact around the world at www.woccu.org.