Inicio > Sala de Noticias > Boletines Noticiosos



February 12, 2016
Sala de Noticias // Boletines Noticiosos
13 de octubre de 2006
ACCU Announces Intended Return to Full World Council Membership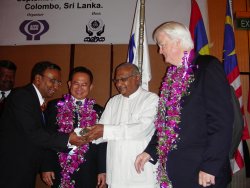 (l-r): Ranjith Hettiarachchi, ACCU CEO, Supachai Srisupaaksorn, ACCU president, the Hon. Rathnasiri Wickramanayake, prime minister of Sri Lanka, and Bobby McVeigh during a special presentation at the opening of the program.
Asian Confederation of Credit Unions (ACCU) delegates unanimously voted to return to full World Council membership at the Asian Credit Union Forum 2006 in Sri Lanka, September 21- 23.
ACCU invited Pete Crear, CEO of World Council of Credit Unions, Bobby McVeigh, vice-chairman of Credit Union Central of Canada and World Council board director, and Dave Richardson, World Council senior manager of technical development, to speak on good governance at the forum.
Crear moderated a plenary session on "Achieving Success in Career, Business and Life" given by R. Theyvendran, Chairman of TCC Singapore.
Richardson spoke on how to lead change and improvement in the credit union system in response to today's evolving market environment.
McVeigh discussed the exploration of new financial services markets in the first keynote speech of the forum. He also led a breakout session on volunteers and the professionalism required of them in approaching credit union governance.
ACCU serves more than 16,000 credit unions with 20.5 million members in 26 countries. In 2000, it dropped its full World Council membership and chose to become an affiliate World Council member. McVeigh worked during his tenure as World Council board chairman (2003-2005) to bring ACCU back to full membership.
"I firmly believe if you are going to have an apex movement for credit unions, you cannot exclude countries like China, Malaysia, Indonesia and Thailand, where one-third of the world's credit unions operate," McVeigh said in an interview with Tim Bertram, New Zealand Association of Credit Unions, following the meeting.
McVeigh also emphasized the power that comes when credit unions and leagues work together to strengthen their movement. "You have got to tell your story," he said. "You have to communicate it to your members, you certainly have to communicate it to the public, and above all, you have to communicate it to your government."
"You have to tell them about the power of people helping people," McVeigh continued. "You must tell the government about the financial and social impact that credit unions have on the community and the economy. You have to get them to realize that there is a viable alternative to the banks that is operated by the credit union movement."
El Consejo Mundial de Cooperativas de Ahorro y Crédito es la asociación gremial y agencia de desarrollo para el sistema internacional de cooperativas de ahorro y crédito. El Consejo Mundial promueve el crecimiento sustentable de las cooperativas de ahorro y crédito y otras cooperativas financieras en todo el mundo a fin de facultar a las personas para que mejoren su calidad de vida a través del acceso a servicios financieros asequibles y de alta calidad. El Consejo Mundial realiza esfuerzos de defensa activa en representación del sistema global de las cooperativas de ahorro y crédito ante organizaciones internacionales y trabaja con gobiernos nacionales para mejorar la legislación y la regulación. Sus programas de asistencia técnica introducen nuevas herramientas y tecnologías para fortalecer el desempeño financiero de las cooperativas de ahorro y crédito y profundizar su alcance comunitario.
El Consejo Mundial ha implementado 290 programas de asistencia técnica en 71 países. A nivel mundial, 57,000 cooperativas de ahorro y crédito en 105 países atienden a 217 millones de personas. Obtenga más información sobre el impacto global del Consejo Mundial en www.woccu.org.

Contacto principal:
Rebecca Carpenter
Correo electrónico:
rcarpenter@woccu.org
Teléfono:
+1-608-395-2031