African CU Congress Draws Record-Breaking Attendance
October 19, 2006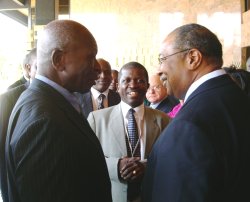 (l-r) H.E. the vice president of the Republic of Kenya, Hon. Moody Awori meets with Edward Mudibo and Pete Crear.
Madison, WI—Almost 500 credit union professionals from 15 countries discussed how to reduce poverty through sound governance at the seventh annual Africa Savings and Credit Co- operative Association (SACCA) Congress, October 3-6, at the Grand Regency Hotel in Nairobi, Kenya.
World Council of Credit Unions, Inc. hosted the event in collaboration with the Canadian Co- operative Association (CCA), Irish League of Credit Unions (ILCU) and Kenya Union Savings and Credit Cooperatives (KUSCCO). The Chatfield Fund and African American Credit Union Coalition (AACUC) also sponsored the congress.
The SACCA Congress is an annual forum for representatives from credit unions, known as savings and credit cooperatives (SACCOs), to exchange ideas and perspectives on current SACCO issues across Africa.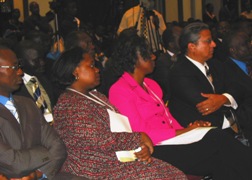 (l-r) Erick Sile, World Council program manager for Africa, AACUC's Tarra Jackson and Audia Williams, and Jesús Chavez, World Council technical development and regulatory systems manager, listen in at the seventh annual African Congress.
"The SACCA Congress is precisely the kind of international training opportunity for which the Chatfield Fund was created," said Matt Davidson, executive vice president of the California and Nevada Credit Union Leagues, who congratulated Africa's SACCOs and the co-hosts and co-sponsors on the successful congress. "One of the unique hallmarks of the worldwide credit union system is the open knowledge exchange among credit unions and across national borders," he said.
H.E. the vice president of the Republic of Kenya, Hon. Moody Awori set the tone for the event in his opening address. He emphasized the importance of transparent leadership in providing effective service.
"It does not matter how much an institution has in terms of resources and technological expertise," Awori said. "Without grounding itself in basic principles of good governance, all its efforts would be in vain…Ethics and good governance are neither a luxury nor an option; they are essential for our own survival as individuals, organizations, governments and the entire human race."
Also attending the opening ceremony were Hon. Peter Njeru Ndwiga, minister for cooperative development, Patrick Khaemba, permanent secretary, and Frederick Odhiambo, commissioner for cooperatives development.
Four full days of presentations were dedicated to governance, savings, loans, financial disciplines and IT issues, and sessions were conducted with simultaneous translations in French and English.
CCA's Jo-Anne Fergusson, senior director of international development, gave a compelling presentation on the importance of balancing gender in SACCO management.
ILCU board members Anne O'Byrne and Tommy Weir brought Ireland's story to Africa in their presentation on credit unions in community.
Edward Mudibo, managing director of KUSCCO, talked with attendees on the first day of the congress about the need for specialized legal, regulatory and supervisory framework in the Co- operative Societies Act.
Emmanuel Darko, general manager of Credit Union Associations of Ghana, encouraged participants to look beyond the number of members and loans at their SACCOs and measure instead the impact of products, services and programs they provide. Darko challenged attendees to focus on their social obligation to the poor and help reduce poverty by providing financial education in addition to their regular services.
Presenters also included World Council staff members and US credit union volunteers: Audia Williams, manager of Union Settlement Federal Credit Union in New York, Tarra Jackson, vice president of lending at Delaware Federal Credit Union, and Anne Cochran, president and CEO of the Louisiana Credit Union League.
Mudibo praised the technical, financial and material contributions of World Council, ILCU, CCA and the AACUC. "This has been the most enriching African SACCO Conference with the most comprehensive technical content and largest attendance," he said. "The support is highly appreciated and shall contribute immensely in the development of the SACCO movement in Africa."
World Council CEO Pete Crear returned Mudibo's praise. "KUSCOO and its staff were great and truly helped make this the best Congress ever."
World Council of Credit Unions is the global trade association and development platform for credit unions. World Council promotes the sustainable development of credit unions and other financial cooperatives around the world to empower people through access to high quality and affordable financial services. World Council advocates on behalf of the global credit union system before international organizations and works with national governments to improve legislation and regulation. Its technical assistance programs introduce new tools and technologies to strengthen credit unions' financial performance and increase their outreach.
World Council has implemented 300+ technical assistance programs in 89 countries. Worldwide, 89,026 credit unions in 117 countries serve 260 million people. Learn more about World Council's impact around the world at www.woccu.org.