Inicio > Sala de Noticias > Boletines Noticiosos



April 29, 2016
Sala de Noticias // Boletines Noticiosos
14 de agosto de 2007
African Credit Union Leader Benefits from Western CUNA Management School Sponsorship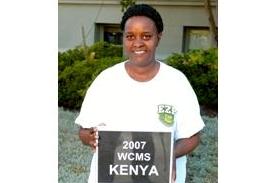 Margaret Njeri Ngunjiri participated in her first two-week session of the three-year Western CUNA Management School in July.
Madison, WI—Margaret Njeri Ngunjiri, Manager of Finance and Administration at Jamii Savings and Credit Co-operative (SACCO) Society, Ltd. in Nairobi, Kenya, spoke nothing but praise about her first-year attendance at the Western CUNA Management School in California last month.
"Everything that was scheduled at the school added value to all facets of my life," Ngunjiri said. "The program was packed with relevant information that opened up my sphere of thinking, especially to credit union management."
World Council of Credit Unions (WOCCU) nominated Ngunjiri, a 2006 Strathmore-WOCCU African Management Institute (SWAMI) graduate, for the WCMS scholarship because of her outstanding leadership among fellow credit union leaders in her SWAMI class. Jamii SACCO (credit union) is one of seven SACCOs working with WOCCU programs in Kenya. WOCCU's work with Jamii SACCO is funded by the Bill & Melinda Gates Foundation.
Following Ngunjiri's SWAMI graduation and WOCCU nomination, the WCMS board approved a full scholarship and agreed to pay the direct expenses for Ngunjiri to attend the three-year WCMS program.
"Not only was the scholarship approved," said Barry Jolette, WCMS Board Trustee and WOCCU 1st Vice Chairman, "but individual members of the board were all very enthusiastic in their support."
The scholarship will enable Ngunjiri to continue to develop her skills as a credit union leader and become an agent of change in the Kenyan and African credit union society.
"I am very appreciative of the support I received from the donor and all the hospitality and assistance I received from the California Credit Union League and CUNA Western Management School," Ngunjiri said. "The program was very rich in content and had a lot of what we could implement in our credit union in Kenya. It was a mind-opening experience…I am thankful to be able to go through the program, and it will certainly change the outlook of my credit union." Ngunjiri said her credit union is already implementing the knowledge she gained from WCMS.
WCMS is a three-year program for credit union professionals. Students attend a two-week training session each summer on topics such as management, economics, legal and ethical standards, money and financial institutions, communications and leadership and participate in organized activities outside the classroom. In addition to the annual sessions, each student completes a written project between terms: an analysis of the student's credit union and a strategic plan for the future of the student's credit union.
The California Credit Union League conducts WCMS administration from its headquarters in Rancho Cucamonga, CA.
El Consejo Mundial de Cooperativas de Ahorro y Crédito es la asociación gremial y agencia de desarrollo para el sistema internacional de cooperativas de ahorro y crédito. El Consejo Mundial promueve el crecimiento sustentable de las cooperativas de ahorro y crédito y otras cooperativas financieras en todo el mundo a fin de facultar a las personas para que mejoren su calidad de vida a través del acceso a servicios financieros asequibles y de alta calidad. El Consejo Mundial realiza esfuerzos de defensa activa en representación del sistema global de las cooperativas de ahorro y crédito ante organizaciones internacionales y trabaja con gobiernos nacionales para mejorar la legislación y la regulación. Sus programas de asistencia técnica introducen nuevas herramientas y tecnologías para fortalecer el desempeño financiero de las cooperativas de ahorro y crédito y profundizar su alcance comunitario.
El Consejo Mundial ha implementado 290 programas de asistencia técnica en 71 países. A nivel mundial, 57,000 cooperativas de ahorro y crédito en 105 países atienden a 217 millones de personas. Obtenga más información sobre el impacto global del Consejo Mundial en www.woccu.org.

Contacto principal:
Rebecca Carpenter
Organización:
World Council of Credit Unions
Correo electrónico:
rcarpenter@woccu.org
Teléfono:
+1-608-395-2031