Inicio > Sala de Noticias > Boletines Noticiosos



April 29, 2016
Sala de Noticias // Boletines Noticiosos
09 de septiembre de 2010
Agricultural Loan Program Brings Sri Lankan Rice Farmers Record High Revenues
WOCCU Employs Value Chain Linkages to Benefit Small Farmers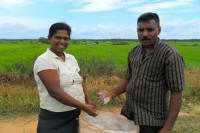 Shirani Somalatha, pictured above with her husband, joined Women's Co-op's agricultural lending program after a drought drastically reduced her family's rice harvest. The following year, they increased their yield by 86%, Shirani repaid her loan in full and was able to deposit about US$1,000 into savings.

COLOMBO, Sri Lanka — World Council of Credit Unions (WOCCU) has helped small-scale farmers in Sri Lanka increase their revenues up to 71% by developing an agricultural lending program that combines lending with technical assistance and market relationships and introduces higher-yield, higher-profit rice varieties for farmers. WOCCU established the agricultural lending program in Sri Lanka's north-central region with 10 branches of Women's Development Services Co-operative Society Limited (Women's Co-op), a credit union owned and operated entirely by and for women.
With funding from the U.S. Department of Agriculture, WOCCU worked with Women's Co-op to develop the robust agricultural lending program and disburse the first batch of loans totaling US$36,000 to 192 member farmers in November 2009. After a successful season, Women's Co-op lent an additional US$105,000 to 309 farmers in May 2010.
Suresh Wijesinghe, deputy director of WOCCU's program in Sri Lanka, stressed the value and positive economic impact of the agricultural lending program in the lives of Women's Co-op members during a session at a U.S. Overseas Cooperative Development Council conference in May. According to Wijesinghe, Women's Co-op members have improved agricultural production technology and found new market relationships and financing through value chains, a series of entities that take a crop from field to market.
"Women's Co-op members are improving their lives through the credit union's services, from group lending to insurance to health and education services," Wijesinghe said at the conference. "The agricultural lending program is being rolled out on a pilot basis in four [now 10] of the branches, with the plan to expand to all branches so that all members can benefit."
WOCCU's Sri Lanka program has contracted CIC Agribusinesses, a national agribusiness company, to provide technical training and farm inputs to farmer groups before the seed is sown. The company offers premium prices for several rice varieties, particularly for a proprietary variety of red basmati. With the program coming to a close next year, WOCCU is currently working with Women's Co-op to appropriately factor the cost of the farmers' long-term technical assistance into the price of their loans and develop purchase agreements with CIC Agribusinesses for farmers in the north-central region.
"Many of the rural poor continue to face economic challenges not only because they lack access to finance but because they are isolated from markets. They do not have information about crop demand and product prices, and they do not have established relationships with input suppliers or end buyers," said Brian Branch, WOCCU executive vice president and COO. "The Sri Lanka program bridges those gaps by connecting producers with market opportunities as well as financing so that they can increase their income and assets."
Shirani Somalatha, a rice farmer and Women's Co-op member in the Polonnaruwa region of Sri Lanka, is one of many who have reaped benefits from the program. In early 2009, the region was hit by a drought, substantially reducing her family's harvest. Later that year, Somalatha was elected as a member of the credit union's branch agricultural committee and received training from WOCCU and CIC Agribusinesses on farming techniques and technologies, fertilization, pest control and farm planning. She then joined the agricultural lending program to receive financing and begin implementing new farming practices on her fields.
omalatha took out a seasonal loan of 50,000 rupees (US$435) to purchase seeds for new high-yield rice varieties and pesticides and to prepare the land, harvest and process the rice from her family's two-hectare (five-acre) farm. At harvest, her new crop yielded 13,000 kilos, and with an established buyer, she received about 50% higher than the average market price. With the earnings from just one season, Somalatha was able to pay back her loan and deposit 123,000 rupees (US$1,075) into a savings account at the Women's Co-op.
For more information on WOCCU's program in Sri Lanka, visit: http://financialaccesstowomen.woccu.org
El Consejo Mundial de Cooperativas de Ahorro y Crédito es la asociación gremial y agencia de desarrollo para el sistema internacional de cooperativas de ahorro y crédito. El Consejo Mundial promueve el crecimiento sustentable de las cooperativas de ahorro y crédito y otras cooperativas financieras en todo el mundo a fin de facultar a las personas para que mejoren su calidad de vida a través del acceso a servicios financieros asequibles y de alta calidad. El Consejo Mundial realiza esfuerzos de defensa activa en representación del sistema global de las cooperativas de ahorro y crédito ante organizaciones internacionales y trabaja con gobiernos nacionales para mejorar la legislación y la regulación. Sus programas de asistencia técnica introducen nuevas herramientas y tecnologías para fortalecer el desempeño financiero de las cooperativas de ahorro y crédito y profundizar su alcance comunitario.
El Consejo Mundial ha implementado 290 programas de asistencia técnica en 71 países. A nivel mundial, 57,000 cooperativas de ahorro y crédito en 105 países atienden a 217 millones de personas. Obtenga más información sobre el impacto global del Consejo Mundial en www.woccu.org.

NOTA: Oprima el botón del mouse sobre las fotografías para verlas/descargarlas en alta resolución.
Contacto principal:
Rebecca Carpenter
Organización:
World Council of Credit Unions
Correo electrónico:
rcarpenter@woccu.org
Teléfono:
+1-608-395-2031