Amid Conflict, Afghans Put Hope in New Credit Unions (IFCs)
March 13, 2007
A Samangan IFC member makes his mark to receive his first loan.
Madison, WI—World Council of Credit Unions (WOCCU) and the United States Agency for International Development (USAID) joined the Afghan people in opening three new investment and finance cooperatives (IFCs or credit unions) February 26-March 5 in Ayback, Puli-Khumri and Jalalabad, Afghanistan. The final opening in Jalalabad took place in a dangerous environment, as an unrelated improvised explosive device (IED) had detonated a day earlier just four miles down the road.
Despite the tense situation in Jalalabad, an Afghan government representative and World Council staff joined some fifty proud Afghans at Nangarhar IFC to celebrate the opening of their first community-owned financial institution.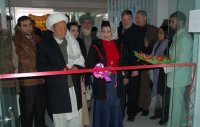 The assistant governor of Baghlan and Baghlan IFC's chairwoman officially open the IFC in Puli-Khumri.
"Even IED explosions aren't enough to dissuade Afghans from rebuilding their local economies and civic societies after decades of war and oppression," explained Randy Spears, WOCCU- Afghanistan project director. "As member-owned financial cooperatives, the IFCs not only provide their Afghan members with access to much needed savings and loan services, but they also empower them to take active roles in democratic decision making."
Farther north the previous week, close to 80 Samangan IFC members celebrated their IFC opening in Ayback, and 100 members at neighboring Baghlan IFC celebrated their grand opening in Puli-Khumri. At each of the three celebrations, members representing the farming and business sectors invested withdrawable shares and received the IFCs' first loans ranging from approximately US$300 to US$500.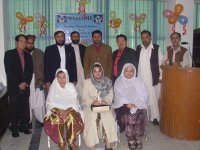 Nangarhar IFC staff pose for a photo at the grand opening of their IFC in Jalalabad.
Spears said that everyone in attendance loved the idea of ownership and all were beaming at the celebrations. In his welcome speeches at the grand openings, he reminded members that they were the owners of the IFCs.
The four-member interim boards of directors from each IFC attended the openings. Women are represented on all the boards, and the board chairperson of Baghlan IFC is a woman. The new IFCs will hold general assemblies in April to elect board members. Following the speeches and first disbursement of loans, there was an official ribbon cutting and customary lunch for all attendees.
Since the establishment of IFCs in Afghanistan three years ago, total membership in the five institutions has grown to more than 5,500. World Council is currently working with staff at Afghanistan's first two IFCs—Balkh IFC and Jawzjan IFC—to open three branch offices in the north. Plans are also underway to establish a national association.
World Council's work to develop IFCs in Afghanistan is funded by the Academy for Educational Development (AED) under its USAID- funded Agriculture, Rural Investment and Enterprise Strengthening (ARIES) Program and the Microfinance Investment and Support Facility for Afghanistan (MISFA). The WOCCU-Afghanistan staff, a USAID representative, AED representatives, delegates from the provincial governor's office and a female member of Parliament, Najia Aimaq, celebrated with the new IFC members at the grand openings.
World Council of Credit Unions is the global trade association and development agency for credit unions. World Council promotes the sustainable development of credit unions and other financial cooperatives around the world to empower people through access to high quality and affordable financial services. World Council advocates on behalf of the global credit union system before international organizations and works with national governments to improve legislation and regulation. Its technical assistance programs introduce new tools and technologies to strengthen credit unions' financial performance and increase their outreach.
World Council has implemented 300+ technical assistance programs in 89 countries. Worldwide, 68,882 credit unions in 109 countries serve 235 million people. Learn more about World Council's impact around the world at www.woccu.org.