Barry Jolette Wins World Council Distinguished Service Award
Polish CU association awards two Phoenix awards; five young professionals honored
July 20, 2012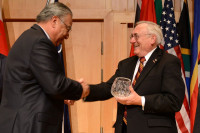 World Council Chair Manuel Rabines presents the global industry's top honor to Barry Jolette, a former regulator, World Council chair and current president and CEO of San Mateo Credit Union (Calif., USA).
GDAŃSK, Poland — Former World Council of Credit Unions director Barry Jolette has been given the organization's Distinguished Service Award, the global credit union industry's highest honor. The award was presented to Jolette, a former World Council chair who represented the United States on the board, during Wednesday's closing awards ceremony of the World Credit Union Conference in Gdańsk this week.
A former National Credit Union Administration regulator, Jolette serves as president and CEO of San Mateo Credit Union in Redwood City, Calif. (USA). In 1997, he was elected to the Credit Union National Association board of directors and named its chair in 2001. He also served on the California and Nevada Credit Union Leagues board as a director and chair and has received the National Credit Union Foundation's Herb Wegner Memorial Award for Lifetime Achievement, the highest individual honor awarded by the U.S. credit union movement.
Jolette's involvement with World Council began in 1991, and he has been an active participant in global credit union development ever since. Jolette's experience with World Council changed his life, he said, and he urged audience members to increase their participation in the global trade group.
"I know you know someone who should be part of this wonderful organization, so please ask them to get involved," Jolette said. "That person could be the next crazy zealot to step forward and save some lives."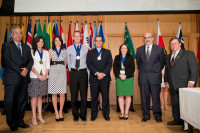 World Council Chair Manuel Rabines (left) congratulates WYCUP winners (left to right) Miriam De Dios, United States; Edyta Grzybowska, Poland; Brian Aalbers, Canada; Wesley Diniz Alves, Brazil; and Maire Doyle, Ireland; together with World Council President and CEO Brian Branch and Director Ron Hance.

Conference co-hosts the National Association of Co-operative Savings and Credit Unions (NACSCU) also presented two Phoenix Awards, the highest honor given by the Polish credit union system. NACSCU Supervisory Board Chair Adam Jedlinski bestowed the awards on the late Polish president Lech Kaczyński, a former NACSCU Foundation director and longtime credit union supporter, and Cardinal Jozef Glemp, the Catholic primate of Gdańsk.
"The awards were presented to two wonderful people who supported the credit union movement and helped guide us out from under the shadow of a totalitarian regime," Jedlinski said.
World Council also awarded scholarships to five participants in the World Council Young Credit Union People (WYCUP) program. The scholarships enable winners to attend the 2013 World Credit Union Conference next July in Ottawa, Canada. This year's winners were Miriam De Dios, United States; Edyta Grzybowska, Poland; Brian Aalbers, Canada; Wesley Diniz Alves, Brazil; and Maire Doyle, Ireland.
"The hallmark of any profession is to provide for and train the next generation of leaders," said World Council Director Ron Hance, president and CEO of Heritage Family Federal Credit Union in Rutland, Vt., (USA) and head of World Council's awards committee who presented the awards. "The international credit union movement is no different, and it is always a pleasure for me to recognize and honor those we think will take the reins of our movement and lead it in the right direction as the 21st century unfolds."

World Council First Vice Chair Grzegorz Bierecki presents the conference logo and tagline to the city of Gdańsk.
World Council First Vice Chair Grzegorz Bierecki, NACSCU president and CEO, announced that the rights to the conference logo and tagline "Let's Gdańsk!" would be presented to the city of Gdańsk for use in promoting the city in perpetuity.
"Let it stand in representation of the work Polish credit unions have done and of World Council's legacy of sustainability long after this conference has ended," Bierecki said. "'Let's Gdańsk' tonight, tomorrow and for many years to come."
Bierecki also won a special award from the Russian Credit Union League and the Ukrainian National Association of Savings and Credit Unions for his work in helping guide the development of Poland's credit union system.
Visit www.LetsGdansk2012.org to download the conference presentations, news and photos.
World Council of Credit Unions' World Credit Union Conference reconvenes July 14–17, 2013, in Ottawa, Canada. Visit www.Ottawa2013.org for more information.

World Council of Credit Unions is the global trade association and development platform for credit unions. World Council promotes the sustainable development of credit unions and other financial cooperatives around the world to empower people through access to high quality and affordable financial services. World Council advocates on behalf of the global credit union system before international organizations and works with national governments to improve legislation and regulation. Its technical assistance programs introduce new tools and technologies to strengthen credit unions' financial performance and increase their outreach.
World Council has implemented 300+ technical assistance programs in 89 countries. Worldwide, 89,026 credit unions in 117 countries serve 260 million people. Learn more about World Council's impact around the world at www.woccu.org.