Branch Appointed WOCCU's Chief Operating Officer
WOCCU Undergoes Organizational Changes
January 03, 2004

Dr. Brian Branch, WOCCU vice president and COO
Madison, WI—World Council of Credit Unions, Inc. (WOCCU) recently announced a change in organizational structure, which became effective January 1, 2004. Changes were made to better streamline day-to-day operation of the organization and focus on international trade association and development efforts.
One of the major changes of the reorganization was the appointment of Dr. Brian Branch to vice president & chief operating officer (COO) of World Council. Previous to his appointment, Branch held the post of vice president. Together with Lucy Ito, vice president special projects, they were responsible for WOCCU's development mission.
Branch will be reporting directly to World Council president and chief executive officer (CEO), Arthur Arnold and will be responsible for the day-to-day operational management of WOCCU. Branch is an international credit union development veteran, serving in development fieldwork, research and implementation for more than 22 years. Branch has worked with credit unions and other financial institutes for the past 13 years. (Click to read more)
Arnold explained, "I am confident that the appointment of Brian Branch to COO and the new structure of WOCCU will provide better service to our member organizations and support the successful implementation of the 2004 Plan."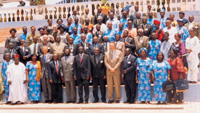 Branch poses with SACCA Congress credit union delegates in Accra, Ghana, Africa.
Other personnel changes included the promotions to two current WOCCU employees: Mark Cifuentes and Dave Grace. Cifuentes was appointed to senior manager, international development agency. He was previously the WOCCU regional manager for Latin America, the Caribbean and Africa. Grace was also appointed as senior manager, for the international trade association. Previous to the appointment, Grace was the WOCCU manager of legislation and regulation and IRnet manager.
Along with the new appointments at World Council was the formation of a Corporate Management Team (CMT), which will support Branch in his new function as vice president & COO for the implementation of the 2004 work plan. The new CMT will be chaired by Branch and Mary Chapman, VP & CFO Corporate Services will serve as vice chair. Other members include: Mark Cifuentes, senior manager, International Development Agency; Dave Grace, senior manager, International Trade Association; Julie Allen, manager, Finance and Accounting; and Anna Cora Evans, manager, International Development Agency.
The existing Senior Management Team (SMT) will focus on strategic management challenges and issues, as well as policy matters at WOCCU. The SMT will be chaired by Arnold and consist of Branch, Chapman and Ito.
World Council of Credit Unions is the global trade association and development agency for credit unions. World Council promotes the sustainable development of credit unions and other financial cooperatives around the world to empower people through access to high quality and affordable financial services. World Council advocates on behalf of the global credit union system before international organizations and works with national governments to improve legislation and regulation. Its technical assistance programs introduce new tools and technologies to strengthen credit unions' financial performance and increase their outreach.
World Council has implemented 300+ technical assistance programs in 89 countries. Worldwide, 68,882 credit unions in 109 countries serve 235 million people. Learn more about World Council's impact around the world at www.woccu.org.