Inicio > Sala de Noticias > Boletines Noticiosos



April 29, 2016
Sala de Noticias // Boletines Noticiosos
03 de enero de 2004
Branch Appointed WOCCU's Chief Operating Officer
WOCCU Undergoes Organizational Changes

Dr. Brian Branch, WOCCU vice president and COO
Madison, WI—World Council of Credit Unions, Inc. (WOCCU) recently announced a change in organizational structure, which became effective January 1, 2004. Changes were made to better streamline day-to-day operation of the organization and focus on international trade association and development efforts.
One of the major changes of the reorganization was the appointment of Dr. Brian Branch to vice president & chief operating officer (COO) of World Council. Previous to his appointment, Branch held the post of vice president. Together with Lucy Ito, vice president special projects, they were responsible for WOCCU's development mission.
Branch will be reporting directly to World Council president and chief executive officer (CEO), Arthur Arnold and will be responsible for the day-to-day operational management of WOCCU. Branch is an international credit union development veteran, serving in development fieldwork, research and implementation for more than 22 years. Branch has worked with credit unions and other financial institutes for the past 13 years. (Click to read more)
Arnold explained, "I am confident that the appointment of Brian Branch to COO and the new structure of WOCCU will provide better service to our member organizations and support the successful implementation of the 2004 Plan."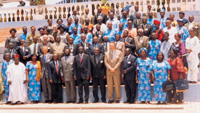 Branch poses with SACCA Congress credit union delegates in Accra, Ghana, Africa.
Other personnel changes included the promotions to two current WOCCU employees: Mark Cifuentes and Dave Grace. Cifuentes was appointed to senior manager, international development agency. He was previously the WOCCU regional manager for Latin America, the Caribbean and Africa. Grace was also appointed as senior manager, for the international trade association. Previous to the appointment, Grace was the WOCCU manager of legislation and regulation and IRnet manager.
Along with the new appointments at World Council was the formation of a Corporate Management Team (CMT), which will support Branch in his new function as vice president & COO for the implementation of the 2004 work plan. The new CMT will be chaired by Branch and Mary Chapman, VP & CFO Corporate Services will serve as vice chair. Other members include: Mark Cifuentes, senior manager, International Development Agency; Dave Grace, senior manager, International Trade Association; Julie Allen, manager, Finance and Accounting; and Anna Cora Evans, manager, International Development Agency.
The existing Senior Management Team (SMT) will focus on strategic management challenges and issues, as well as policy matters at WOCCU. The SMT will be chaired by Arnold and consist of Branch, Chapman and Ito.
El Consejo Mundial de Cooperativas de Ahorro y Crédito es la asociación gremial y agencia de desarrollo para el sistema internacional de cooperativas de ahorro y crédito. El Consejo Mundial promueve el crecimiento sustentable de las cooperativas de ahorro y crédito y otras cooperativas financieras en todo el mundo a fin de facultar a las personas para que mejoren su calidad de vida a través del acceso a servicios financieros asequibles y de alta calidad. El Consejo Mundial realiza esfuerzos de defensa activa en representación del sistema global de las cooperativas de ahorro y crédito ante organizaciones internacionales y trabaja con gobiernos nacionales para mejorar la legislación y la regulación. Sus programas de asistencia técnica introducen nuevas herramientas y tecnologías para fortalecer el desempeño financiero de las cooperativas de ahorro y crédito y profundizar su alcance comunitario.
El Consejo Mundial ha implementado 290 programas de asistencia técnica en 71 países. A nivel mundial, 57,000 cooperativas de ahorro y crédito en 105 países atienden a 217 millones de personas. Obtenga más información sobre el impacto global del Consejo Mundial en www.woccu.org.

Teléfono: (608) 395-2000