Brazil and Florida CU Leagues Announce International Partnership
March 28, 2007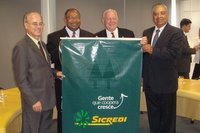 World Council's CEO and board members announced the SICREDI and FCUL partnership during a press conference in Brazil. Pictured (l-r): Alcenor Pagnussatt, SICREDI CEO, Pete Crear, WOCCU CEO, Gary Plank, WOCCU board chairman, and Manuel Rabines, FENACREP (Peru) CEO.
Madison, WI—Brazil's SICREDI announced its formal alliance with the Florida Credit Union League (FCUL) through the World Council of Credit Unions (WOCCU) International Partnerships program March 14 in Porto Alegre, Brazil.
World Council CEO Pete Crear, board chairman Gary Plank, board members Manuel Rabines (Peru) and Alcenor Pagnussatt (Brazil) and International Partnerships manager Victor Corro spoke to members of the Brazilian press about the worldwide credit union movement while in Porto Alegre for a board meeting. Crear especially highlighted SICREDI's success and recognized it as one of the best among developed movements such as those in the United States, Canada and Australia.
SICREDI's 127 credit unions have been on shared branching for more than 10 years and operate under a unified brand throughout the country, a trusted image that has brought them much success. SICREDI's assets have grown at an average annual rate of 31.5% over the last four years, and membership has grown at an annual rate of 13.5% over the same period.
Corro explained that SICREDI and FCUL's partnership is really more of a peer relationship. "This is a different kind of partnership. Both systems have everything credit unions need to operate soundly. So they'll be looking at enhancing individual credit union services, strengthening the systems and sharing experiences in liquidity investment."
SICREDI will also be looking at FCUL's experience transitioning from brick-and-mortar operations to online member services.
"We are eager to proceed in this endeavor and look forward to the wonderful opportunities this partnership will bring for both groups," said Guy Hood, FCUL president and CEO. "Such a partnership between Florida credit unions and SICREDI credit unions will provide each with valuable insight and information on how to do business the credit union way. Our thanks go to WOCCU for making this possible."
Just before the World Credit Union Conference in July, 20 SICREDI delegates plan to travel to Tallahassee, Florida, to meet their Florida partners for the first time and to plan future activities.
World Council of Credit Unions is the global trade association and development agency for credit unions. World Council promotes the sustainable development of credit unions and other financial cooperatives around the world to empower people through access to high quality and affordable financial services. World Council advocates on behalf of the global credit union system before international organizations and works with national governments to improve legislation and regulation. Its technical assistance programs introduce new tools and technologies to strengthen credit unions' financial performance and increase their outreach.
World Council has implemented 300+ technical assistance programs in 89 countries. Worldwide, 68,882 credit unions in 109 countries serve 235 million people. Learn more about World Council's impact around the world at www.woccu.org.