British Columbia and Hong Kong Take the First Step in International Partnership
July 20, 2005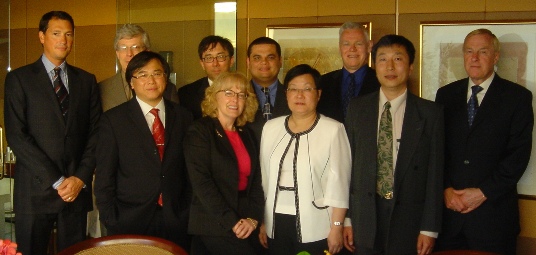 (back row, l-r) Dan Burns, chairman, CUCBC; Roland Kelly, vice president and CFO, CUCBC; Ken Warkentyne, director, web banking products & development, CUCBC; Victor Corro, International Partnerships manager, WOCCU; Richard Thomas, VP of trade services & corporate secretary, CUCBC; Wayne Nygren, president/CEO, CUCBC; (front row, l-r) Charles Yip, president, CULHK; Linda Archer, VP of human resources & marketing, CUCBC; Catherine Cheng, CEO, CULHK, and Jonah Zhao, associate VP of product development & payment services, CUCBC.
Madison, WI - Earlier this month, Credit Union Central of British Columbia (CUCBC) and the Credit Union League of Hong Kong (CULHK) took the first step in initiating a World Council of Credit Unions, Inc. (WOCCU) International Partnership. CUCBC's wish to increase its presence in the Asian market of British Columbia, particularly in the greater Vancouver area, and the desire of the Hong Kong league to introduce the credit union philosophy to mainland China are what brought these groups together. The proposed partnership would focus on several areas, such as loan promotion, managing liquidity, how to attract new members, and disaster recovery planning.
In their first face-to-face meeting, two representatives of the Hong Kong league – president Charles Yip and CEO Catherine Cheng – met with representatives of CUCBC in Vancouver from July 5-14 to learn more about the credit union system in Canada. Should the organization decide to sign a WOCCU International Partnership agreement after the Canadians visit Hong Kong later this year, they will be the first partnership that does not involve a US league, setting a new precedent for the program. The partnership will focus on several areas, such as loan promotion, managing liquidity, how to attract new members, and disaster recovery planning.
On the first day of their visit, Yip and Cheng joined WOCCU's International Partnerships manager Victor Corro for a presentation by CUCBC on the function of centrals (equivalent to US leagues) in Canada. Welcomed by CUCBC's president/CEO and WOCCU board member Wayne Nygren, the group heard from a number of CUCBC senior staff members on the structure, member services, and investment strategy of the organization.
The group next traveled to Sharons Credit Union, a Korean community credit union that has recently experienced a sharp increase in growth due to an influx in the Asian population and their strong community ties. At Sharons, Yip and Cheng were introduced to a truly bilingual credit union: all of their marketing materials and services are offered in both Korean and English. Also making an effort to better serve the Asian population, VanCity has introduced bilingual branches in Chinatown. VanCity Credit Union, the largest credit union in Canada, was recently named the number one place to work in the country. At VanCity, the group was given a history of the credit union by Chris Dobrzanski, SVP of risk management, and educated on "segment marketing," or catering services to niche populations. They were also briefed on VanCity's social responsibility programs and social audit process, in which the organization reports how they impact the economy, society, and environment.
One the third day, the Hong Kong delegation visited Stabilization Central of British Columbia, which provides guaranteed funds for credit union members' deposits, and the Financial Institutions Commission, whose staff provided an in-depth account of how credit unions are regulated at the provincial level. To gain perspective on the scope of sizes of credit union in British Columbia, the group also visited Greater Vancouver Community Credit Union, where they were welcomed by general manager Phillip Moore and taught the basics of small credit union operations catering to close-knit communities.
The delegation traveled to Toronto, where they first spent at day at Credit Union Central of Canada (Canadian Central) where staff presented the three-tier structure of the Canadian system, with special emphasis on activities at the federal level. The following day they toured the offices of Credit Union Central of Ontario (CUCO), where they compared the services and structure of CUCO with those of other provinces. For example, CUCO places greater emphasis on competition with banks and trust companies because the retail banking market in Ontario is controlled by very large banks; they have had to work hard to differentiate themselves and illustrate what it is that makes them unique. Also that day was a visit to Alterna Savings Credit Union, where the delegates learned how about mergers in the Canadian credit union system: how the decision is made to merge, the process of amalgamation, and how to sell the idea to members and staff.

(l-r) WOCCU's International Partnerships manager Victor Corro, WOCCU board chair L.R. (Bobby) McVeigh, CULHK president Charles Yip, CULHK CEO Katherine Cheng, Ukraine CU CEO Taras Pidzamecky, and Ukraine CU operations manager Allison Conroy
On the final day of their visit, the group was joined by WOCCU board chair L.R. (Bobby) McVeigh. In the morning the group toured Ukraine Credit Union, an ethnic-based credit union, to learn how such an organization serves members of a particular community. That afternoon, the delegation visited Meridian Credit Union – a recent amalgamation of Niagara Credit Union and Hepcoe Credit Union – where they again focused on mergers and the resulting need for new branding and the education of staff and membership under a new identity, a topic in which the Hong Kong league expressed interest.
"Both groups were very pleased with the trip," said McVeigh. "They continue to be excited about the potential partnership and we at WOCCU look forward to the creation of the first non-US league partnership, extending an already successful program even further abroad."
World Council of Credit Unions is the global trade association and development agency for credit unions. World Council promotes the sustainable development of credit unions and other financial cooperatives around the world to empower people through access to high quality and affordable financial services. World Council advocates on behalf of the global credit union system before international organizations and works with national governments to improve legislation and regulation. Its technical assistance programs introduce new tools and technologies to strengthen credit unions' financial performance and increase their outreach.
World Council has implemented 300+ technical assistance programs in 89 countries. Worldwide, 68,882 credit unions in 109 countries serve 235 million people. Learn more about World Council's impact around the world at www.woccu.org.