Inicio > Sala de Noticias > Boletines Noticiosos



May 4, 2016
Sala de Noticias // Boletines Noticiosos
21 de octubre de 2004
British Financial Secretary to the Treasury Supports WOCCU's PEARLS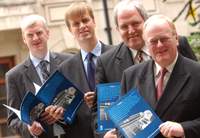 l-r: Mark Lyonette, chief executive of Association of British Credit Unions, Stephen Timms (MP) Financial Secretary to the Treasury, David Richardson - Senior Manager, World Council of Credit Unions; and Martin Mosley - Barclays, Consumer and Community Affairs Director pose for photo with PEARLS literature.
Madison, WI—In early October, Association of British Credit Unions (ABCUL) published the results of their pilot project, which received praise from the British Financial Secretary to the Treasury, Stephen Timms, among others. The primary aim of the project was to tackle the problem of financial exclusion, a major issue facing Britain right now. ABCUL has made headway on this aim in four key ways: by reducing delinquency rates, growing assets and membership, decreasing operating expenses and improving net capital.
Credit unions and banks are typically seen as competitors, but as shown by the results of a recent collaboration between the ABCUL and Barclay's bank, their combined efforts can produce excellent results. For the past two years, ABCUL and Barclay's, with support from the World Council of Credit Unions, Inc. (WOCCU), have been implementing WOCCU's financial monitoring system, known as PEARLS, in nine credit unions throughout the UK. David Richardson, WOCCU technical development manager, says of his experience, "For the past 2 1/2 years, I have worked closely with ABCUL to help train British Credit Union leaders in the use PEARLS so that they can have a greater impact in providing financial services to their communities. It has been most gratifying to see the impact that PEARLS has had in the short time it has been used. PEARLS is more than a set of financial ratios. It is a monitoring system that reinforces the credit union ideology and defines with greater clarity, the difference that credit unions can make in the financial marketplace."
The results of the two-year pilot were so impressive that Barclay's has agreed to fund the implementation of PEARLS in 11 more British credit unions, while ABCUL is working on offering PEARLS training and education to 100 additional credit unions in the next three years, helping 40 of those credit unions to develop and implement a strong business plan, and developing an online benchmarking tool so all credit unions may compare their performance with that of their peers.
"The results from PEARLS look very promising," said Timms. "PEARLS empowers credit unions to move towards sustainability and to become stronger and more business like. Rigorous credit assessment makes it possible for members to get access to credit before they have a saving record, providing a much more realistic alternative for many people to high interest lenders. PEARLS also opens up the prospect of a new and more diverse range of services being made available to members. I'm sure that further progress will follow."
PEARLS has also influenced a number of the participating credit unions to change their lending policies, allowing new members capable of repaying loans more immediate access. In the old system, the members had to prove themselves a regular saver for 13 weeks before they were eligible for a loan. Now qualified individuals may access a credit union's loan services when they need it, while other measures prevent those with an inability to repay the loan from borrowing and thus further diminishing their credit standing. "Credit unions are especially helpful in providing affordable loans and "free, face-to-face financial advice," says Timms. "The credit union movement is now positioned to develop and grow and to realize its full potential in 21st century Britain."
El Consejo Mundial de Cooperativas de Ahorro y Crédito es la asociación gremial y agencia de desarrollo para el sistema internacional de cooperativas de ahorro y crédito. El Consejo Mundial promueve el crecimiento sustentable de las cooperativas de ahorro y crédito y otras cooperativas financieras en todo el mundo a fin de facultar a las personas para que mejoren su calidad de vida a través del acceso a servicios financieros asequibles y de alta calidad. El Consejo Mundial realiza esfuerzos de defensa activa en representación del sistema global de las cooperativas de ahorro y crédito ante organizaciones internacionales y trabaja con gobiernos nacionales para mejorar la legislación y la regulación. Sus programas de asistencia técnica introducen nuevas herramientas y tecnologías para fortalecer el desempeño financiero de las cooperativas de ahorro y crédito y profundizar su alcance comunitario.
El Consejo Mundial ha implementado 290 programas de asistencia técnica en 71 países. A nivel mundial, 57,000 cooperativas de ahorro y crédito en 105 países atienden a 217 millones de personas. Obtenga más información sobre el impacto global del Consejo Mundial en www.woccu.org.

Teléfono: (608) 395-2000