CUANM and Alianza Sign International Partnership Agreement, Commit to Long-Term Cooperation and Sharing
CUANM
August 30, 2005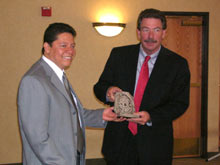 Tomas Carrizales Villegas, CEO of Alianza, presents CUANM board chair Rick Rogers with a gift.
A group of six credit union professionals from Leon, Mexico, visited New Mexico last week to learn about credit unions in the United States and to sign an international partnership agreement with the Credit Union Association of New Mexico. The Mexican visitors are part of a similar trade association in Mexico called Alianza, which represents 26 credit unions in several Mexican states. The Credit Union Association of New Mexico represents 52 credit unions in the state of New Mexico.
International Partnerships, a World Council of Credit Unions, Inc. (WOCCU) program, pairs U.S. credit union networks with those of developing nations to promote mutual growth and knowledge exchange. WOCCU International Partnerships manager, Victor Corro, joined the Alianza group for their New Mexico tour to facilitate communication.
The group toured several credit unions during their visit in addition to meeting with the CUANM staff and staff at CU Anytime, the statewide credit union ATM network. On Wednesday, in the middle of their week-long stay, the formal partnership agreement signing took place. The Credit Union Association of New Mexico board of directors was in attendance and the signing received media coverage from the statewide Spanish language news station, Univision.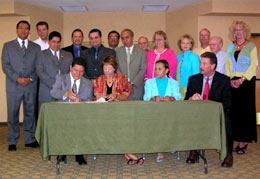 Alianza, CUANM and WOCCU sign the partnership agreement.
The two trade associations have been working toward this partnership since 2004 when a group from New Mexico made a visit to Mexico for an initial meeting.
"We hope this partnership will allow us to learn more about serving new immigrants from Mexico and to assist Alianza in their attempt to grow the credit union movement in Mexico," said CUANM president and CEO Sylvia Lyon. "This is really an opportunity to put our 'people helping people' philosophy into action."
Tomas Carrizales Villegas, CEO of Alianza, said his group thoroughly enjoyed the visit.
"I'm very pleased with the exchange of knowledge and the great way we were received by CUANM and several credit unions. We are looking forward to a very close relationship with New Mexico," Villegas said.
World Council of Credit Unions is the global trade association and development agency for credit unions. World Council promotes the sustainable development of credit unions and other financial cooperatives around the world to empower people through access to high quality and affordable financial services. World Council advocates on behalf of the global credit union system before international organizations and works with national governments to improve legislation and regulation. Its technical assistance programs introduce new tools and technologies to strengthen credit unions' financial performance and increase their outreach.
World Council has implemented 300+ technical assistance programs in 89 countries. Worldwide, 68,882 credit unions in 109 countries serve 235 million people. Learn more about World Council's impact around the world at www.woccu.org.