Inicio > Sala de Noticias > Boletines Noticiosos



April 30, 2016
Sala de Noticias // Boletines Noticiosos
30 de agosto de 2005
CUANM and Alianza Sign International Partnership Agreement, Commit to Long-Term Cooperation and Sharing
CUANM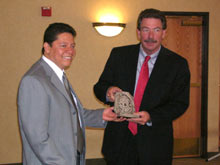 Tomas Carrizales Villegas, CEO of Alianza, presents CUANM board chair Rick Rogers with a gift.
A group of six credit union professionals from Leon, Mexico, visited New Mexico last week to learn about credit unions in the United States and to sign an international partnership agreement with the Credit Union Association of New Mexico. The Mexican visitors are part of a similar trade association in Mexico called Alianza, which represents 26 credit unions in several Mexican states. The Credit Union Association of New Mexico represents 52 credit unions in the state of New Mexico.
International Partnerships, a World Council of Credit Unions, Inc. (WOCCU) program, pairs U.S. credit union networks with those of developing nations to promote mutual growth and knowledge exchange. WOCCU International Partnerships manager, Victor Corro, joined the Alianza group for their New Mexico tour to facilitate communication.
The group toured several credit unions during their visit in addition to meeting with the CUANM staff and staff at CU Anytime, the statewide credit union ATM network. On Wednesday, in the middle of their week-long stay, the formal partnership agreement signing took place. The Credit Union Association of New Mexico board of directors was in attendance and the signing received media coverage from the statewide Spanish language news station, Univision.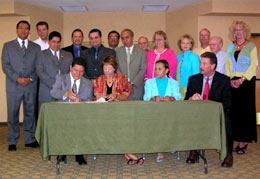 Alianza, CUANM and WOCCU sign the partnership agreement.
The two trade associations have been working toward this partnership since 2004 when a group from New Mexico made a visit to Mexico for an initial meeting.
"We hope this partnership will allow us to learn more about serving new immigrants from Mexico and to assist Alianza in their attempt to grow the credit union movement in Mexico," said CUANM president and CEO Sylvia Lyon. "This is really an opportunity to put our 'people helping people' philosophy into action."
Tomas Carrizales Villegas, CEO of Alianza, said his group thoroughly enjoyed the visit.
"I'm very pleased with the exchange of knowledge and the great way we were received by CUANM and several credit unions. We are looking forward to a very close relationship with New Mexico," Villegas said.
El Consejo Mundial de Cooperativas de Ahorro y Crédito es la asociación gremial y agencia de desarrollo para el sistema internacional de cooperativas de ahorro y crédito. El Consejo Mundial promueve el crecimiento sustentable de las cooperativas de ahorro y crédito y otras cooperativas financieras en todo el mundo a fin de facultar a las personas para que mejoren su calidad de vida a través del acceso a servicios financieros asequibles y de alta calidad. El Consejo Mundial realiza esfuerzos de defensa activa en representación del sistema global de las cooperativas de ahorro y crédito ante organizaciones internacionales y trabaja con gobiernos nacionales para mejorar la legislación y la regulación. Sus programas de asistencia técnica introducen nuevas herramientas y tecnologías para fortalecer el desempeño financiero de las cooperativas de ahorro y crédito y profundizar su alcance comunitario.
El Consejo Mundial ha implementado 290 programas de asistencia técnica en 71 países. A nivel mundial, 57,000 cooperativas de ahorro y crédito en 105 países atienden a 217 millones de personas. Obtenga más información sobre el impacto global del Consejo Mundial en www.woccu.org.

Contacto principal: Jodi Garber-Simon
Organización: Credit Union Association of New Mexico
Teléfono: ext. 2230