CUNA Hosts World Council's G7 World CU Leaders
December 05, 2006

Members of the G7 pose for a photo during a break in the meetings. (Photo: Dave Klavitter)
Madison, WI — The Credit Union National Association (CUNA) and World Council of Credit Unions welcomed credit union leaders from the world's seven largest credit union associations: Canada, Ireland, Australia, the Caribbean, Poland, Brazil and the United States, at meetings this week in Washington, D.C.
The group, hosted by World Council and CUNA's CEO, Dan Mica, met this week to discuss the issues faced by each. The World Council of Credit Unions' (WOCCU) inaugural meeting is called The G7.
Pete Crear, World Council CEO noted, "It's vital for the world's largest credit union associations to work together on challenges, address trends and capitalize on opportunities. The G7 is our way to address this need."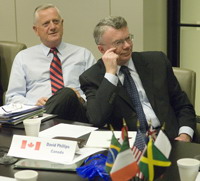 l-r: John Gilbert, CEO, CUSCAL (Australia) and David Phillips, CEO, Credit Union Central of Canada participate in the G7 meeting. (Photo: Dave Klavitter)
The group's agenda includes discussions on membership growth and what credit unions will look like in the year 2020, the youth market and cooperative advocacy efforts. David Phillips, CEO of the Credit Union Central of Canada, and John Gilbert, CEO of CUSCAL (Australia), also reported on association structure changes within their countries.
The meeting, which was prompted by World Council's members, is intended to promote networking among the leaders, typically the associations' chief executive and chairperson, and keep an eye toward the future, according to Crear, who was joined by World Council Chairman Gary Plank, president and CEO of the Arizona Credit Union League.
The two-day meeting was held at Credit Union House and was facilitated by Mark Sievewright, who was also a speaker at the 2006 World Credit Union Conference.
World Council of Credit Unions is the global trade association and development agency for credit unions. World Council promotes the sustainable development of credit unions and other financial cooperatives around the world to empower people through access to high quality and affordable financial services. World Council advocates on behalf of the global credit union system before international organizations and works with national governments to improve legislation and regulation. Its technical assistance programs introduce new tools and technologies to strengthen credit unions' financial performance and increase their outreach.
World Council has implemented 300+ technical assistance programs in 89 countries. Worldwide, 68,882 credit unions in 109 countries serve 235 million people. Learn more about World Council's impact around the world at www.woccu.org.