CUNA Mutual Group and WOCCU Work Together to Strengthen Global Movement
October 05, 2007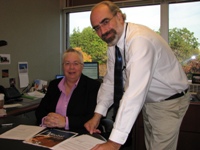 Sue Albrecht, CUNA Mutual Group, and Brian Branch, WOCCU, sign the $100,000 annual support agreement for 2007-2008.
Madison, Wis.—Demonstrating once again its commitment to serving credit unions worldwide, CUNA Mutual Group today signed a $100,000 annual support agreement for 2007 and 2008 with World Council of Credit Unions (WOCCU).
The agreement includes an international development grant to create the CUNA Mutual Group Fund for Leadership and Innovation to support credit union strengthening where needs are greatest and the CUNA Mutual Group Global Credit Union Disaster Relief Fund to assist WOCCU with disaster relief efforts. The grant will also support WOCCU's annual World Credit Union Conference.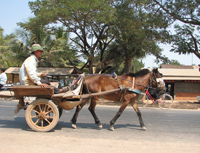 CUNA Mutual Group funding helps provide financial access to the underserved in Cambodia. New funding will support similar credit union strengthening initiatives.
"We are proud to support these incredibly important initiatives," said Sue Albrecht, Senior Vice President of CUNA Mutual Group's International Division. "Our continued support of WOCCU and the work being done to develop credit unions and provide services to the underserved is important to both CUNA Mutual and the credit union movement worldwide."
Brian Branch, Executive Vice President and Chief Operating Officer at WOCCU, thanked CUNA Mutual Group, noting, "This continued commitment to international credit union development is another example of CUNA Mutual Group's encouragement of thought leadership and innovation at the global level. We're proud of our longstanding relationship, working together to strengthen the global credit union movement."
CUNA Mutual Group's ongoing support of WOCCU's Building Trust in Cambodia initiative is putting credit union buildings on the ground, helping increase lending capacity and providing members with secure places to save. Currently, a large majority of Cambodians have no access to financial services, and small credit unions operate out of volunteers' homes. Future development grant funds will help provide access to financial services for marginalized and underserved populations through credit unions.
CUNA Mutual Group's gift to create the disaster relief fund under WOCCU's management will make money immediately available to credit unions and their members around the world when disaster strikes. WOCCU's most recent activity supported Peruvian credit unions after the earthquake in August. CUNA Mutual Group was also a major supporter of WOCCU's rebuilding efforts in 2004 after the tsunami destroyed many credit unions in Sri Lanka.
CUNA Mutual Group is a long-time sponsor of WOCCU's annual World Credit Union Conference, which provides an educational forum for credit union leaders to gather and learn about new trends, exchange ideas for confronting challenges and network with peers from around the world. CUNA Mutual Group supported the 2007 conference in Calgary, Canada, and will sponsor the 2008 conference in Hong Kong, July 13-16.
Committed to education and training, CUNA Mutual Group is one of the founding supporters of the Strathmore-WOCCU African Management Institute (SWAMI). Established in 2004, SWAMI is a groundbreaking board and management training institute based in Nairobi, Kenya, for credit union leaders from across Africa.
Visit www.woccu.org to find out how you can get involved in strengthening the global credit union movement. Learn more about CUNA Mutual Group's international activities at www.cunamutual.com/international.
CUNA Mutual Group is the leading provider of financial products and services to credit unions and their members worldwide. More information on the company is available on the company's website: www.cunamutual.com.
World Council of Credit Unions is the global trade association and development agency for credit unions. World Council promotes the sustainable development of credit unions and other financial cooperatives around the world to empower people through access to high quality and affordable financial services. World Council advocates on behalf of the global credit union system before international organizations and works with national governments to improve legislation and regulation. Its technical assistance programs introduce new tools and technologies to strengthen credit unions' financial performance and increase their outreach.
World Council has implemented 300+ technical assistance programs in 89 countries. Worldwide, 68,882 credit unions in 109 countries serve 235 million people. Learn more about World Council's impact around the world at www.woccu.org.