Inicio > Sala de Noticias > Boletines Noticiosos



May 6, 2016
Sala de Noticias // Boletines Noticiosos
16 de enero de 2004
CUSC and WOCCU Join Forces to Expand Shared Branching Internationally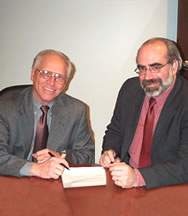 l-r: Carroll Beach, president/CEO, CUSC and Brian Branch, World Council vice president and COO meet at CUSC headquarters to talk about alliance.
Atlanta, GA & Madison, WI (January 15, 2004) Credit Union Service Corporation (CUSC) and the World Council of Credit Unions, Inc. (WOCCU) announce an alliance that will allow the two organizations to investigate and work towards offering shared branching to serve credit unions in countries outside the United States.
CUSC and WOCCU have initially committed to establishing a pilot project of shared branching services between the United States and Ecuador. Ten to twenty pilot Ecuador credit unions will be chosen to participate and aid in the development of procedural standards used to insure future success of the program in other countries. The alliance will work to convert the paper-based shared branching system currently used in the region to an automatic network that will provide them with a safe and secure connection to the United States.
Ecuador was chosen as the pilot country in part due to its currency being that of the United States. Ideally, identical currencies result in a shorter process of converting monies from one country to another.
Initial accepted transactions will include international remittances, ATM, debit card services and eventually the addition of credit cards. Program directors expect the system in Ecuador to be fully functional by the end of 2004, along with a similar system in Mexico. Other international credit union systems being reviewed also include Kenya, Nicaragua, and the Philippines.
"The ability to share branches across borders is the next step in the process of internationalization of credit union services," said Brian Branch, WOCCU vice president and chief operating officer for WOCCU. "World Council's credit union building programs around the world have taken the first step: to bring credit unions from many different environments to the same level of financial discipline and policy in order to establish international mutualization." Branch continued, "World Council chose the alliance with CUSC because of their next generation network, which makes development efforts more cost effective."
CUSC's network has served credit unions internationally for some time, but they have all been U.S. based and typically operate on restricted access. This endeavor will be the first true shared branching network ever seen outside of the United States involving foreign- based credit unions.
"It is a unique opportunity to be able to develop a partnership with such a globally prestigious organization," said Carroll Beach, president/CEO of CUSC. "As the premiere shared branching organization, CUSC is excited about the potential of enhancing our international reach."
About CUSC Credit Union Service Corporation (CUSC) is the credit union movement's largest shared branching network representing 55 percent of all national locations and 68 percent of credit unions participating in shared branching. CUSC is the only shared branching network representing credit unions, leagues, CUSOs, CUNA and CUNA Mutual.
El Consejo Mundial de Cooperativas de Ahorro y Crédito es la asociación gremial y agencia de desarrollo para el sistema internacional de cooperativas de ahorro y crédito. El Consejo Mundial promueve el crecimiento sustentable de las cooperativas de ahorro y crédito y otras cooperativas financieras en todo el mundo a fin de facultar a las personas para que mejoren su calidad de vida a través del acceso a servicios financieros asequibles y de alta calidad. El Consejo Mundial realiza esfuerzos de defensa activa en representación del sistema global de las cooperativas de ahorro y crédito ante organizaciones internacionales y trabaja con gobiernos nacionales para mejorar la legislación y la regulación. Sus programas de asistencia técnica introducen nuevas herramientas y tecnologías para fortalecer el desempeño financiero de las cooperativas de ahorro y crédito y profundizar su alcance comunitario.
El Consejo Mundial ha implementado 290 programas de asistencia técnica en 71 países. A nivel mundial, 57,000 cooperativas de ahorro y crédito en 105 países atienden a 217 millones de personas. Obtenga más información sobre el impacto global del Consejo Mundial en www.woccu.org.

Teléfono: (608) 395-2000