Inicio > Sala de Noticias > Boletines Noticiosos



April 29, 2016
Sala de Noticias // Boletines Noticiosos
06 de diciembre de 2005
CU Celebration Draws Over 5,000 Women
WOCCU Representatives Attend FOCCUS Summit and SCWE Grand Assembly in Davao, Philippines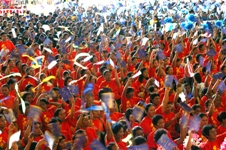 Luis Sasuman, WOCCU-Philippines project director, speaks to SCWE assembly.
Madison, WI - World Council of Credit Unions, Inc. (WOCCU) recently coordinated the travel of a group of United States credit union representatives to Davao, Philippines to participate in the first annual Finance Organizations Achieving Certified Credit Union Standards (FOCCUS) Summit and the third Savings and Credit with Education (SCWE) Grand Assembly. The group included WOCCU's technical development senior manager, Dave Richardson; Tiffany Kultgen, IRnet Officer, WOCCU; Kathy Chartier, CEO, Members Credit Union; Tom Graves, CEO, King's County Credit Union; and Dennis Cutter, CEO of Numerica Credit Union.
Shortly after their arrival, the group met the Credit Union Empowerment and Strengthening (CUES) project staff for an orientation of the events to follow. Project director Luis Sasuman and the other CUES staff work under the direction of WOCCU and are funded by a grant from the United States Agency for International Development (USAID).
The FOCCUS Summit began the next day. Management and directors attended from savings and credit cooperatives throughout the Philippines, some traveling as long as 16 hours to attend. Following the opening remarks, Chartier spoke about the importance of credit union leagues, including the Philippines' recently formed Model Cooperative Network (MCN), bringing value to member credit unions. Other summit topics included supervision and examination, regulation, safety and soundness, international remittances (IRnet) and branding.
Later in their visit, the group attended the SCWE Grand Assembly. SCWE, a micro-finance program developed by the CUES project, has served over 40,000 Filipino women and their families to date. SCWE staff members visit rural areas to form groups of low-income women who are economically active and capable of microenterprise. The groups meet weekly to make a deposit and receive education on health practices, self-development and better business skills. The women take turns borrowing the money that they save, and every loan is used to improve their families' quality of life.

SCWE attendees celebrate cooperatives.
Over 5,000 women from SCWE groups organized by six different Philippine cooperatives attended this year's SCWE Grand Assembly, a bi-annual event. In an inspirational message to the group, Kultgen encouraged the women to share what they have learned with others on a regular basis. "I would like to challenge you to share your knowledge and experience with at least five other people by the end of the year. Many of you have said that the cooperative has changed your life. I want you to remember today and always that you are the cooperative, you and the other women around you. You are truly people helping people and that's what it's all about."
Also during the event, a representative of each cooperative spoke of her successes made possible by participation in the SCWE program. "Although we were asked to give inspirational messages, the women were the true inspiration," said Chartier. "It was amazing to see the sheer volume, the enthusiasm and the commitment of these women. We all felt proud to be part of the worldwide credit union movement, knowing that they were all there because they had been touched by the WOCCU-Philippines project."
El Consejo Mundial de Cooperativas de Ahorro y Crédito es la asociación gremial y agencia de desarrollo para el sistema internacional de cooperativas de ahorro y crédito. El Consejo Mundial promueve el crecimiento sustentable de las cooperativas de ahorro y crédito y otras cooperativas financieras en todo el mundo a fin de facultar a las personas para que mejoren su calidad de vida a través del acceso a servicios financieros asequibles y de alta calidad. El Consejo Mundial realiza esfuerzos de defensa activa en representación del sistema global de las cooperativas de ahorro y crédito ante organizaciones internacionales y trabaja con gobiernos nacionales para mejorar la legislación y la regulación. Sus programas de asistencia técnica introducen nuevas herramientas y tecnologías para fortalecer el desempeño financiero de las cooperativas de ahorro y crédito y profundizar su alcance comunitario.
El Consejo Mundial ha implementado 290 programas de asistencia técnica en 71 países. A nivel mundial, 57,000 cooperativas de ahorro y crédito en 105 países atienden a 217 millones de personas. Obtenga más información sobre el impacto global del Consejo Mundial en www.woccu.org.

Teléfono: (608) 395-2000