California and Nevada CUs Raise Funds for Kenya Orphanage; Leagues Match Donation
New home improves living conditions and financial access in Busia
January 22, 2013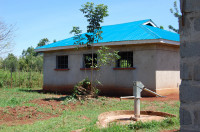 Since September 2012, the Busia construction crew has dug a septic tank, installed a clean water system, and constructed several buildings including a community room and boys' and girls' dormitories and bathrooms.
MADISON, Wis. — Credit unions and individuals throughout California and Nevada contributed more than US$16,000 in funds, of which the Leagues matched US$10,000, to support the construction of a new facility for Busia Compassionate Centre, an orphanage in rural western Kenya supported by World Council of Credit Unions. The improved orphanage started a credit union to offer formal financial services to the larger community for the first time.
California and Nevada Credit Union Leagues member credit unions that donated to the Busia campaign include:
Greater Nevada Credit Union (Carson City, Nev.)
CoastHills Federal Credit Union (Lompoc, Calif.)

KeyPoint Credit Union (Santa Clara, Calif.)
Kinecta Federal Credit Union (Manhattan Beach, Calif.)
Meriwest Credit Union (San Jose, Calif.)
Mission Federal Credit Union (San Diego, Calif.)
North Island Credit Union (San Diego, Calif.)
Redwood Credit Union (Santa Rosa, Calif.)
San Mateo Credit Union (Redwood City, Calif.)
United Health Credit Union (Burlingame, Calif.)
Xceed Financial Credit Union (El Segundo, Calif.)
"The California and Nevada credit unions' donations allow us to complete the construction of the new orphanage facilities and to bring financial services to Busia more quickly than we imagined," said Brian Branch, World Council president and CEO. "The Leagues' generosity and the contributions they have inspired throughout their states will make a lasting difference in the lives of more than 90 orphans and their community."
"I'm proud of our member credit unions for their generosity and support of this very worthy cause," said Diana Dykstra, president and CEO of the California and Nevada Credit Union Leagues. "And as a League, we are pleased to be able to contribute to something that will help these children survive and become successful future leaders."
World Council launched the Busia Compassionate Centre campaign in June 2012 to build a better home for the orphans and to establish a credit union that would provide the Busia community's first access to financial services. Donations to the fund have helped pay for construction, clean water, balanced meals, education, medical expenses, sanitary living conditions and a small farm for food security. Contributions have also supported the credit union's staff and technological expenses, such as Internet access and smartphones, for conducting financial service transactions. Construction is expected to be complete this year. The orphanage has registered the credit union, which is currently creating operational policies and procedures.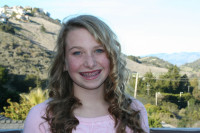 Taylor York, 13, daughter of CoastHills FCU CEO Jeff York, raised US$5,150 from California credit unions for the Busia Compassionate Centre.
Instrumental to raising awareness and funds for the Busia campaign among California credit unions was Taylor York, 13, daughter of CoastHills Federal Credit Union CEO Jeffrey York. After hearing about the Busia orphanage during a business trip to San Diego with her father in June, Taylor began a letter-writing campaign to credit unions in her state. She helped raised US$5,150.
World Council is organizing a Global Women's Leadership Network engagement program to Busia, Kenya, in May to visit the newly constructed orphanage and to help the credit union implement a financial literacy program. Engagement programs are open to everyone. Visit www.cuwomen.org/engagementprograms for details.
Learn more about the Busia Compassionate Centre at www.busiaorphanage.org. 
World Council of Credit Unions is the global trade association and development agency for credit unions. World Council promotes the sustainable development of credit unions and other financial cooperatives around the world to empower people through access to high quality and affordable financial services. World Council advocates on behalf of the global credit union system before international organizations and works with national governments to improve legislation and regulation. Its technical assistance programs introduce new tools and technologies to strengthen credit unions' financial performance and increase their outreach.
World Council has implemented 300+ technical assistance programs in 89 countries. Worldwide, 68,882 credit unions in 109 countries serve 235 million people. Learn more about World Council's impact around the world at www.woccu.org.