Calling Young CU Leaders for World Council International Scholarship Program
Nominate an exceptional young professional or volunteer for the 2014 WYCUP scholarship
January 30, 2014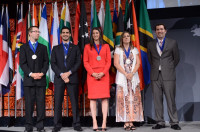 2013 WYCUP winners included (from left) Benjamin Janzen (Canada), Eber Ostemberg (Brazil), Caroline Domanski (United Kingdom), Jenn Vandehaar (Canada) and Christopher Morris (USA). 
MADISON, Wis. — World Council of Credit Unions is accepting nominations from its member organizations for the World Council Young Credit Union People (WYCUP) scholarship program, an international networking and educational opportunity for promising credit union leaders. The nomination deadline is June 16, 2014. The program and awards ceremony will take place at the 2014 World Credit Union Conference in Gold Coast, Australia, July 27–30, 2014.
The WYCUP program seeks individuals who are 35 or younger, passionate about credit unions and interested in networking with a tight-knit group of young leaders from around the world to exchange their experiences in the industry. 
"Investing in young people means investing in your credit union's future," said Brian Branch, World Council president and CEO. "WYCUP provides an opportunity to strengthen movements worldwide by exposing this group to new ideas about the most critical issues facing credit unions in and outside their countries."
To be eligible for the scholarship, nominees must:
Be 35 years of age or younger as of January 1, 2014.
Demonstrate leadership, personal commitment and the potential to significantly influence credit unions in and outside their country.

Be sponsored by their credit union or credit union organization to attend the 2014 World Credit Union Conference. World Council members include organizations affiliated with any national organization belonging to World Council.
Submit a completed nomination form and supporting materials by June 16.
Not have been a previous WYCUP scholarship recipient.
Not be a World Council employee.
WYCUP scholarships will be awarded to five recipients for an all-expense-paid trip to the 2015 World Credit Union Conference in Denver, USA. In addition, conference registrants age 40 and younger qualify for a discounted registration fee and can participate in the joint WYCUP/Emerging Leaders program with Customer Owned Banking Association in Australia, regardless of whether or not they apply for the scholarship.
For more information on the WYCUP scholarship program, visit www.woccu.org/wycup. For questions, contact Lili Tangwall at ltangwall@woccu.org or +1-608-395-2043.
Visit www.GoldCoast2014.org to learn more about the 2014 World Credit Union Conference.
 
World Council of Credit Unions is the global trade association and development agency for credit unions. World Council promotes the sustainable development of credit unions and other financial cooperatives around the world to empower people through access to high quality and affordable financial services. World Council advocates on behalf of the global credit union system before international organizations and works with national governments to improve legislation and regulation. Its technical assistance programs introduce new tools and technologies to strengthen credit unions' financial performance and increase their outreach.
World Council has implemented 300+ technical assistance programs in 89 countries. Worldwide, 68,882 credit unions in 109 countries serve 235 million people. Learn more about World Council's impact around the world at www.woccu.org.