"Cash Society" Drives, Challenges Polish CU Growth, WOCCU Delegation Learns
September 16, 2008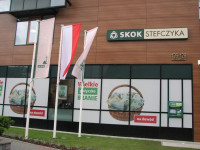 The SKOK Stefcyzka facility in Gdynia, the credit union's 288th branch, celebrated its grand opening Tuesday.
GDYNIA, Poland—SKOK Stefczyka opened its 288th branch Tuesday to serve members who live and work near the Baltic Sea. The grand opening ceremonies put Poland's largest credit union slightly more than halfway to its goal of 500 branches by 2012, and credit union officials believe they will need every last one of them to compete effectively in Poland's growing financial market.
"There are no checks and very few credit and debit cards in Poland," Sławomir Michalewski, deputy director of SKOK Stefczyka, told a World Council of Credit Unions (WOCCU) delegation visiting Poland as part of a combined education and advocacy program. "This is a cash society and requires many hands."
Poland's cash dependency may have resulted from a lack of financial industry development during consecutive decades of Nazi and Communist oppression. It also poses a challenge for the country's burgeoning credit union movement, which experienced a rebirth thanks to the Solidarity movement's success in 1989. The challenge facing Polish credit unions, SKOK Stefcyzka officials say, is to create an appetite for credit and an appreciation for electronic transaction capabilities among Poland's 38 million citizens.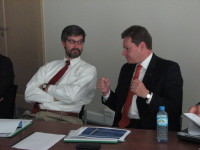 Sławomir Michalewski, deputy director of SKOK Stefczyka (right) makes a point about credit union growth to Mike Schenk, CUNA & Affiliates vice president of economics and statistics.
SKOK Stefczyka, one of Poland's 67 credit unions, currently serves 600,000 members and maintains assets of US$1.1 billion, a profile the credit union has managed to reach in a scant 15 years. Branching strategies play a significant role in the growth of SKOK Stefczyka, named for Dr. Franciszek Stefczyka, considered "the apostle of savings" and father of the Polish credit union movement. However, the constant member lines in branches across Poland have raised both service and economic concerns for the credit union.
"It's nice that [members] spend 40 minutes talking to us, but we have to decide if we are getting sufficient business from those conversations," Michalewski said. "We have to change the behavior of our employees regarding efficiency."
Part of that change will be to evolve from a service to sales culture and promote more cost-effective means of serving members that will lead to greater use of credit and more comprehensive services, he added.
"We must turn loyalty, which is quite nice, into profitability," Michalewski added.
Research conducted by the credit union shows this will be no easy task. Currently, more than 50% of members say they choose their financial institution based on proximity, and greater than twice that number cite safety and soundness as the key issue. About 18% say an expansive ATM network is important, a statistic that encourages credit union officials. At the same time, however, a small percentage of members have debit and credit cards, just 20% have any type of loan and even fewer members have savings or investment accounts.
While SKOK Stefczyka's challenges are distinct to Poland, they also have a familiar ring for credit unions in developed countries worldwide, according to Mike Schenk, CUNA & Affiliates' vice president of economics and statistics and member of the WOCCU delegation. Increasing competition from foreign banks and a growing economy will force Polish credit unions by necessity to change how they conduct business.
"Brick and mortar is still the name of the game in Poland, and that requires lots of branches and lots of people," Schenk said. "That puts lots of pressure on expense ratios."
Gaining greater share of wallet from existing members in addition to growing membership totals-something SKOK Stefczyka already has discovered-will be a strategy not only for growth, but for survival of Poland's credit unions, Schenk said. At the same time, the credit unions' ability to increase member satisfaction and back-office efficiencies offer Poland's credit unions advantages that even U.S. credit unions don't have.
"In a lot of areas, Poland's credit unions are further along than we are," Schenk added. "It's fascinating to see the differences and resources available from an institutional and societal perspective."
Joining Schenk on the engagement program led by WOCCU executive vice president and chief operating officer Brian Branch are Joe Bergeron, president of the Association of Vermont Credit Unions; Bill Cheney, president and CEO of the California & Nevada Credit Unions Leagues; Barry Jolette, CEO of San Mateo Credit Union in Redwood City, Calif., and WOCCU first vice chairman; Jim McCormack, president of the Pennsylvania Credit Union Association; Mike Mercer, president of Georgia Credit Union Affiliates; and various WOCCU staff members.
On Thursday, the WOCCU delegation travels to Warsaw and, with members of the Polish credit union movement, will advocate on behalf of the country's cooperatives in the face of potentially damaging amendments to Poland's credit union laws.
World Council of Credit Unions is the global trade association and development agency for credit unions. World Council promotes the sustainable development of credit unions and other financial cooperatives around the world to empower people through access to high quality and affordable financial services. World Council advocates on behalf of the global credit union system before international organizations and works with national governments to improve legislation and regulation. Its technical assistance programs introduce new tools and technologies to strengthen credit unions' financial performance and increase their outreach.
World Council has implemented 300+ technical assistance programs in 89 countries. Worldwide, 68,882 credit unions in 109 countries serve 235 million people. Learn more about World Council's impact around the world at www.woccu.org.
NOTE: Click on photos to view/download in high resolution.