Catherine Haberland Joins World Council of Credit Unions as Vice President
January 09, 2013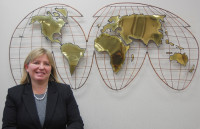 Catherine Haberland, World Council vice president of marketing and communications
MADISON, Wis. — Catherine Haberland has been named vice president of marketing and communications for World Council of Credit Unions. The newly created position will oversee World Council's strategic communications efforts for its organizational members and donor community.
"We heard from our members that they wanted to know more about international trends, events and services. At the same time, we have had an increasing need to identify and develop new business opportunities for donor-supported credit union development," said Brian Branch, World Council president and CEO. "World Council is fortunate to have Catherine's unique blend of experience with the financial services industry, policymaking and foreign service development."
Haberland has led a wide range of international and domestic projects for the U.S. government, state government and non-governmental organizations. She served as part of the senior management team with the Wisconsin Department of Financial Institutions under former Gov. Jim Doyle, which included directing the department's policy and communications and liaising with the Wisconsin Credit Union League to develop regulatory policy. Prior to that, Haberland served as regional team leader for the U.S. Agency for International Development's Office of Transition Initiatives, where she initiated and supervised multi-million dollar projects to provide quick, targeted transition relief to countries overcoming conflict.
Haberland earned a master's degree in development studies from the London School of Economics and Political Science. She holds a bachelor's degree in economics and political science from the University of Wisconsin–Madison. Haberland joins World Council's headquarters in Madison, Wis. (USA).

World Council of Credit Unions is the global trade association and development agency for credit unions. World Council promotes the sustainable development of credit unions and other financial cooperatives around the world to empower people through access to high quality and affordable financial services. World Council advocates on behalf of the global credit union system before international organizations and works with national governments to improve legislation and regulation. Its technical assistance programs introduce new tools and technologies to strengthen credit unions' financial performance and increase their outreach.
World Council has implemented 300+ technical assistance programs in 89 countries. Worldwide, 68,882 credit unions in 109 countries serve 235 million people. Learn more about World Council's impact around the world at www.woccu.org.