Inicio > Sala de Noticias > Boletines Noticiosos



May 2, 2016
Sala de Noticias // Boletines Noticiosos
07 de marzo de 2007
Celebrate International Women's Day March 8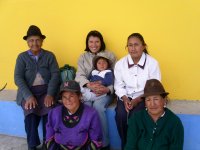 Members of a women's savings and lending group at CACPECO credit union in Ecuador.
Madison, WI—For almost a century, International Women's Day has honored the achievements of women worldwide and has called people to action on current women's issues. On March 8, World Council of Credit Unions (WOCCU) will join in celebrating the role women play in economic development.
"World Council celebrates the advancement of women on a daily basis through the scope and success of its development programs worldwide," said Pete Crear, World Council CEO. "Women make up nearly half of all WOCCU project credit union membership. They are 'agents of change' in society, and their energy drives the development of families, communities, nations and indeed the world."

Marzia, widowed with three children in Afghanistan, started a small business with a loan from her IFC (credit union).
Through World Council's Savings and Credit with Education program in the Philippines and CREER ("to believe") program in Ecuador, women have been able to move up the economic ladder as a result of participating in cooperative group savings and lending. Through the programs, developed in collaboration with Freedom from Hunger, women not only have access to the financial services they need to build micro and small businesses, but they also participate in educational sessions on topics such as women's health, family nutrition and financial planning. The United States Agency for International Development funded the Philippines program, and the Consultative Group to Assist the Poor supported the CREER initiative.
Appreciating the impact of the group savings and lending programs, local credit unions have sustained them beyond the WOCCU projects' close. Today in the Philippines, women comprise 71% of membership—the highest of all WOCCU projects.
In Afghanistan, some women are discovering their first taste of economic freedom at the investment and finance cooperatives (IFCs, credit unions). Marzia was left with three children and no income when her husband died during the war. She was one of the first members of Balkh IFC, where she borrowed $500 to start a bakery with her small mud oven. Marzia bakes the bread, and her children sell it in the market. The family retains 100% of the profits on their sole source of income and is able to reinvest the money to grow their business.
Strathmore-WOCCU African Management Institute (SWAMI) graduate, Margaret Ngunjiri from Kenya, will attend Western CUNA Management School in July thanks to their scholarship award. World Council nominated Ngunjiri for the award because she stood out as a leader among leaders in her SWAMI class. Ngunjiri is the finance and administration manager at Jamii Savings and Credit Co-operative (SACCO, credit union), one of seven SACCOs working with the WOCCU project in Kenya funded by the Bill and Melinda Gates Foundation. The scholarship will enable Ngunjiri to continue to develop her skills as credit union leader and become an agent of change in society.
Catherine Roberts, president and CEO of Research Federal Credit Union in Michigan (United States), and Penny Reeves, Credit Union Central of Canada and Servus Credit Union board member, proudly represent their national credit union systems on World Council's board of directors.
CUNA recently appointed Anne Cochran, CEO of the Louisiana Credit Union League, to the World Council board of directors. She will take the oath of office at this year's World Credit Union Conference in Calgary, Canada. Cochran spearheaded the development of SWAMI, where students have nicknamed her "Mama SWAMI." She is also providing her expertise to World Council and RCUL in developing a Russian training institute.
Among her extensive community service activities, Roberts volunteers with a program that pairs young professional women with female mentors. A number of organizations have honored Roberts for her achievements, and Crain's Detroit Business magazine twice recognized her as one of Detroit's "100 Most Influential Women."
Reeves represents credit unions on the local, national and international level as a board member for her Servus Credit Union, CUCC and World Council. As a business owner and sole proprietor, she has received her hometown's Small Business Owner of the Year Award and the Integrity Award from St. Albert's Rotary Club.
International Women's Day is an official holiday in Armenia, Russia, Azerbaijan, Belarus, Bulgaria, Kazakhstan, Kyrgyzstan, Macedonia, Moldova, Mongolia, Tajikistan, Ukraine, Uzbekistan and Vietnam and is celebrated as Mother's Day in many countries. In the United States, March is designated as "Women's History Month."
For more information on International Women's Day history and activities, visit www.internationalwomensday.com.
El Consejo Mundial de Cooperativas de Ahorro y Crédito es la asociación gremial y agencia de desarrollo para el sistema internacional de cooperativas de ahorro y crédito. El Consejo Mundial promueve el crecimiento sustentable de las cooperativas de ahorro y crédito y otras cooperativas financieras en todo el mundo a fin de facultar a las personas para que mejoren su calidad de vida a través del acceso a servicios financieros asequibles y de alta calidad. El Consejo Mundial realiza esfuerzos de defensa activa en representación del sistema global de las cooperativas de ahorro y crédito ante organizaciones internacionales y trabaja con gobiernos nacionales para mejorar la legislación y la regulación. Sus programas de asistencia técnica introducen nuevas herramientas y tecnologías para fortalecer el desempeño financiero de las cooperativas de ahorro y crédito y profundizar su alcance comunitario.
El Consejo Mundial ha implementado 290 programas de asistencia técnica en 71 países. A nivel mundial, 57,000 cooperativas de ahorro y crédito en 105 países atienden a 217 millones de personas. Obtenga más información sobre el impacto global del Consejo Mundial en www.woccu.org.

Contacto principal:
Rebecca Carpenter
Correo electrónico:
rcarpenter@woccu.org
Teléfono:
+1-608-395-2031