Crear and SWAMI Participants Discuss Best Practices
October 19, 2006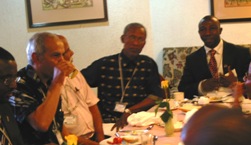 (l-r) Dieudonne Murekezi (Rwanda), Victor Botha (South Africa), Emile Esparon (Seychelles), Joel Ruhu (Kenya) and Kusi Boachie (Ghana) share best practices over breakfast.
Madison, WI—World Council of Credit Unions, Inc. CEO, Pete Crear met with Strathmore- World Council African Management Institute (SWAMI) students and alumni at the seventh annual African Congress this year to discuss best practices.
World Council, Kenya Union of Savings and Credit Co-operatives (KUSCCO), Canadian Co-operative Association (CCA), Irish League of Credit Unions (ILCU) and Louisiana Credit Union League hosted the informal meeting.
About 20 students from Swaziland, Rwanda, Uganda, Botswana, South Africa, Seychelles and Kenya attended the gathering. SWAMI graduates proudly wore their "Certified SACCO Professional" pins, indicating their completion of the SWAMI program.
Crear stressed to them the importance of education and praised the program for preparing African Savings and Credit Co-operative (SACCO) staff and board members to advocate safe and sound practices.
"SWAMI is a good initiative, and it's gathering momentum," he said. "The program is forming future leaders who are passing on the knowledge they've learned to others."
Crear highlighted the support generated for SWAMI by the United States credit union movement, specifically: CUNA Mutual Group, the United States Agency for International Development, Southeastern Regional Credit Union School, African American Credit Union Coalition, Louisiana Credit Union League, Pennsylvania Credit Union League Foundation and American Heritage Credit Union in Pennsylvania. He recognized the global support for the program from the ILCU Foundation and CCA.
Kusi Boachie and Francis Magezi spoke on behalf of the most recent SWAMI graduates and thanked Crear for World Council's support to the popular and successful program.
World Council of Credit Unions is the global trade association and development agency for credit unions. World Council promotes the sustainable development of credit unions and other financial cooperatives around the world to empower people through access to high quality and affordable financial services. World Council advocates on behalf of the global credit union system before international organizations and works with national governments to improve legislation and regulation. Its technical assistance programs introduce new tools and technologies to strengthen credit unions' financial performance and increase their outreach.
World Council has implemented 300+ technical assistance programs in 89 countries. Worldwide, 68,882 credit unions in 109 countries serve 235 million people. Learn more about World Council's impact around the world at www.woccu.org.