Credit Union Data Presents Profit Opportunity, Expert Says
Monday's speakers advise on young adult membership growth strategies at World Credit Union Conference
July 30, 2014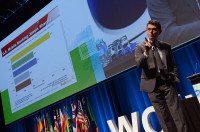 Credit unions can give their members the financial decision-making tools they need now, based on the data they already have, technology expert Lee Wetherington told general session participants. 
GOLD COAST, Australia — The notion that change is happening so fast in the marketplace that credit unions cannot plan for it accordingly is wrong, according to technology expert and adviser Lee Wetherington. During Monday's general session at World Council of Credit Unions' World Credit Union Conference, Wetherington reinforced that the future of credit union services lies in the data they already have.
Wetherington, the keynote speaker at Monday's session, shared a forecast and summary of the industry's best research on upcoming developments in online, mobile, payments and branches. Wetherington provided insights on the global credit union movement's unique opportunity going forward to use their members' data—which no other institution has access to—to understand and satisfy members' financial advising needs through mobile and online payments.
"The future is more about data than it is about payments," said Wetherington, ProfitStars director of strategic insights in the United States. "Using credit unions' data, we will be able to help our members decide whether, when and where it makes sense to buy the stuff they want in real time, with integrity. None of the other market disruptors are in a position to do that."
Mobile banking is already becoming an expectation for smartphone users, Wetherington noted. Mobile banking adoption parallels smartphone adoption, which continues to rise worldwide. As online shopping increases, so does demand for personal mobile financial management (PFM) tools that help consumers decide when not to buy, especially those in Generation Y ages 25–34 who are the first to have a lower standard of living than their parent's generation.
"Mobile personal financial management is the segue from mobile banking to mobile finance and loans...and mobile shopping," said Wetherington. "What everyone wants in mobile PFM is privacy, ease and simplicity."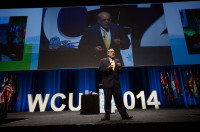 Credit unions should offer financial services specifically designed for young adults' life transitions, Brian Branch told Monday's general session audience.  
Credit unions' challenges worldwide are more similar than ever before, including young adult membership growth, which drives the demand for credit unions to provide competitive mobile and digital payment systems, according to Monday's opening speaker Brian Branch, World Council president and CEO.
"Young adults today have many more financial services options available to them, and they are willing to pay more for convenience," Branch told the general session audience. "Convenience will be king. Our challenge is how to serve this market profitably by looking at our channels and addressing whether the products and services we offer respond to their demands."
In most countries, the median age of credit union members is mid-to-late 40's, which is 10-15 years older than their median national population age, according to Branch. This segment is past its prime borrowing years, whereas young adults are ready to embark in them as they go experience significant and costly life transitions related to their education, careers, families and other living expenses. Branch indicated this generation will be the source of future financial services business soon.
"For online and mobile channels to be successful, they must be easy, take only a few minutes and fall within regulatory requirements," Branch said. "If young consumers have to go to a branch in order to complete the process in person, we lose them."
Branch finished his remarks by challenging the global movement to join World Council's membership growth campaign to add 50 million credit union members worldwide by 2020, for a total of 258 million. This could be possible with a widespread focus on attracting young adult membership through less restrictive regulation, increased mobile, online and payments technology and collaboration amongst credit unions, according to Branch.
Monday finished with a variety of breakout sessions that followed educational tracks on leadership and strategy, technology and innovation, young adult membership growth, and advocacy and governmental affairs. Highly attended sessions on young adult and membership growth quickly reached capacity.
Attendees have been sharing what they are learning throughout the conference on Twitter using the conference hashtag (#WCUC2014). Some highlights from Monday's general session included:
The 2014 World Credit Union Conference runs through 30 July. Download conference speakers' presentations at www.GoldCoast2014.org/goldcoast_schedule. Follow conference activities, including daily event photos, on World Council's Facebook and Twitter pages at www.facebook.com/WOCCU and www.twitter.com/WOCCU using #WCUC2014.
World Council of Credit Unions is the global trade association and development agency for credit unions. World Council promotes the sustainable development of credit unions and other financial cooperatives around the world to empower people through access to high quality and affordable financial services. World Council advocates on behalf of the global credit union system before international organizations and works with national governments to improve legislation and regulation. Its technical assistance programs introduce new tools and technologies to strengthen credit unions' financial performance and increase their outreach.
World Council has implemented 300+ technical assistance programs in 89 countries. Worldwide, 68,882 credit unions in 109 countries serve 235 million people. Learn more about World Council's impact around the world at www.woccu.org.