Credit Union System Raises $50,000 for Peru Disaster Relief
August 28, 2007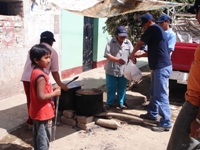 Employees of San Cristobal de Huamanga credit union, many of whose homes were damaged in the earthquake, delivered basic necessities to members who had also suffered loss. Photo provided by San Cristobal de Huamanga staff.
Madison, WI—In response to the devastation caused by the August 15 earthquake in coastal Peru, credit unions and individuals have pledged US$50,000 for relief efforts.
"The response has been immediate and overwhelming," said Pete Crear, World Council of Credit Unions (WOCCU) President and CEO. "With the generous funds raised through WOCCU's Worldwide Foundation and the National Credit Union Foundation's CU Aid, credit unions in Peru have been able to provide immediate assistance to those in most need."
Government aid is reaching some people, but the need is immense. As of yesterday, 519 people have been reported dead, 1,366 wounded and 58,375 homes destroyed. Major landmarks have been lost, hospitals have collapsed and some roads are completely blocked, so it has been difficult for help to get through.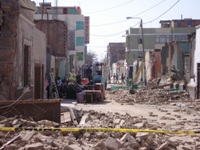 The earthquake caused some of the most damage in the area surrounding San Cristobal de Huamanga credit union in Ica. Photo provided by San Cristobal de Huamanga staff.
Many displaced families are living on the streets, and there have been more than 500 aftershocks since the earthquake, making clean-up and rescue efforts difficult. The government has opened more than 30 shelters, but many Peruvians have elected to remain near their homes or to move into tents in city parks and squares. According to the Department of Health, many victims are suffering from respiratory infections due to exposure in freezing nighttime temperatures on the Andean coast.
Manuel Rabines, WOCCU Second Vice Chairman and CEO of the national credit union association of Peru (FENACREP), said that larger credit unions in Peru have been able to directly distribute aid such as children's clothing, hygienic items, water, food, tents and medicine. He said the government was ill-prepared for a disaster as large as the 7.9-magnitude earthquake, so credit unions have joined international organizations and citizens in unaffected areas to provide relief for those in need.
"The government is constructing temporary buildings so that students can start classes in the schools that collapsed during the earthquake," Rabines reported. "At the same time, they are building similar structures to attend to the health of the population." Rabines said the President has also proposed a law to Congress that would create a reconstruction fund for devastated cities. "Meanwhile, tents are the best solution."
Of the credit unions affiliated with WOCCU's USAID-funded program in Peru, Luis Jiménez, WOCCU-Peru Program Director, reported that the Ica and Chincha branches of San Cristobal de Huamanga credit union and Santa María Magdalena credit union suffered structural damage and that many members have lost their houses and businesses. Besides providing immediate aid to those affected by the disaster, Jiménez said credit unions are also looking at how to confront impending loan losses and an increase in delinquency rates and that the WOCCU program will work with them to devise an action plan.
The Peru Earthquake Relief effort was the first international donation drive activated by the National Credit Union Foundation (NCUF) using CU Aid (www.cuaid.coop).
"NCUF's online donation site was created to serve the credit union community when a need arose," said NCUF Executive Director Steve Delfin. He said they were ready to assist when Joe Bergeron, President and CEO of the Association of Vermont Credit Unions, contacted them soon after the earthquake hit on behalf of FENACREP, their cooperative partner through WOCCU's International Partnerships program.
NCUF raised $10,125 in the first week, according to Delfin. "As credit unions become comfortable with online giving, they will find www.cuaid.coop an effective way to help others," he said.
Mountain America Federal Credit Union in West Jordan, Utah, donated $25,000 through the Worldwide Foundation, while the Ohio Credit Union Foundation, Texas Credit Union Foundation and Washington Credit Union Foundation contributed $5,000 each to disaster relief efforts.
Credit unions and individuals may still make online credit card donations at www.woccu.org (click 'Support WOCCU') or www.cuaid.coop. To send donations via wire transfer, contact Valerie Breunig, Worldwide Foundation for Credit Unions, 608-395-2055/vbreunig@woccu.org. Please indicate your donation is designated for 'Peru Disaster Relief Fund.'
World Council of Credit Unions is the global trade association and development agency for credit unions. World Council promotes the sustainable development of credit unions and other financial cooperatives around the world to empower people through access to high quality and affordable financial services. World Council advocates on behalf of the global credit union system before international organizations and works with national governments to improve legislation and regulation. Its technical assistance programs introduce new tools and technologies to strengthen credit unions' financial performance and increase their outreach.
World Council has implemented 300+ technical assistance programs in 89 countries. Worldwide, 68,882 credit unions in 109 countries serve 235 million people. Learn more about World Council's impact around the world at www.woccu.org.