Credit Unions Help Mexican Banana Growers Prosper
World Council program supports value chain financing
April 03, 2012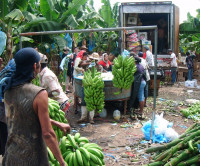 Teams of workers, known as cuadrillas, spend entire days loading up to 23 tons of bananas into semi-trailer trucks for shipment to market.
COAHAYANA, Mexico — Five miles inland from the Pacific Ocean in Mexico's Michoacán state, banana plants stand thick and heavy with bunches of fruit ready to cut for processing and transport to market. World Council of Credit Unions, working with Caja Providencia, a local credit union, is developing a value chain financing program to assure that the growers harvesting the fruit get a fair market price for their crop to better support themselves and the local economy.

Value chain financing provides financial infusion to farmers at key points within the planting, growing and harvesting cycle to make sure they have sufficient funds to operate their businesses. In this agricultural coastal corridor of Mexico, acopiadors, or collection and processing agents, serve as linkages between the grower, the buyer and the credit union, through which funds are provided, to support the farming cycle. Farmers who are Caja Providencia members can become part of the value chain process, as well as gain access to additional credit union services.

"The value chain model has worked well to support rural growers, producers and craftspeople throughout Latin America," said Brian Branch, World Council president and CEO. "The partnership with Caja Providencia has made a positive difference in the lives of the members involved in this program."

The partnership with Caja Providencia is part of World Council's five-year Cooperative Development Program (CDP), supported by US$4 million in funding from the U.S. Agency for International Development. The program focuses on creating and testing agricultural and financial tools to improve rural economic and financial sector development, personal income and food security. Results from the program, which runs through 2015 and also operates in Guatemala, will include a scalable methodology to increase small farmers' access to markets, inputs and technical assistance.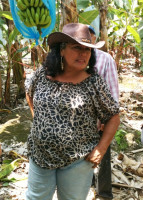 Dora Leticia Garibo is an acopiador, or collection and processing agent, who supports the value chain network launched by World Council with Caja Providencia to assure that banana growers in rural Mexico get fair prices for their crops.
Such programs also benefit the credit unions by increasing member growth and participation. In addition to providing funds through the value chain model, the $45 million Caja Providencia, which serves nearly 40,000 members, sees an opportunity to assist banana growers by helping improve production processes and provide the organization necessary to secure market-based prices from buyers.
World Council's partnership with Fideicomisos Instituidos en Relación con la Agricultura, a development bank that offers credit and guarantees, training, technical assistance and technology-transfer support to Mexico's agriculture, livestock, fishing, forestry and agribusiness sectors, has helped Caja Providencia members gain access to subsidized loans to grow their businesses. The growers use the subsidized loans, currently priced at 1.5% interest rate, to invest in better equipment, machinery and other inputs. This will, in turn, lead to higher quality crops that will increases prices and enable sale to buyers from markets currently out of reach of these farmers.

Members participating in the program are expected to increase production, improve their livelihoods and offer better financial support to their communities. Currently, a cuadrilla, or team of 15 workers, spends entire days loading up to 1,300 boxes totaling 23 tons of bananas into semi-trailer trucks for transport to market. Thanks to the efforts of Caja Providencia and World Council, those workers one day soon will be earning a fair price for the efforts, which will help them better care for their families and support their credit union.
For more information about World Council's value chain finance methodology, visit www.woccu.org/valuechainfinance. For more information about World Council's CDP program, visit http://improveruralincome.woccu.org.
The U.S. Agency for International Development administers the U.S. foreign assistance program providing economic and humanitarian assistance in more than 120 countries worldwide.


World Council of Credit Unions is the global trade association and development agency for credit unions. World Council promotes the sustainable development of credit unions and other financial cooperatives around the world to empower people through access to high quality and affordable financial services. World Council advocates on behalf of the global credit union system before international organizations and works with national governments to improve legislation and regulation. Its technical assistance programs introduce new tools and technologies to strengthen credit unions' financial performance and increase their outreach.
World Council has implemented 300+ technical assistance programs in 89 countries. Worldwide, 68,882 credit unions in 109 countries serve 235 million people. Learn more about World Council's impact around the world at www.woccu.org.