Credit Unions Help St. Lucia Farmers Find New Markets
March 12, 2007

(l-r) Carlos Calderón, OAS FCU president and CEO; Laborie Credit Union members, Mr. Felicien and his daughter Olivia; and Felix Chicot, St. Lucia Department of Agriculture.
Madison, WI—With the eastern Caribbean collapse of the banana trade, many St. Lucia farmers have lost their livelihoods. In response, World Council of Credit Unions (WOCCU), the Organization of American States' (OAS) Inter- American Institute for Cooperation on Agriculture (IICA) and OAS Federal Credit Union (Washington, DC) are collaborating on an initiative to strengthen Laborie Credit Union on St. Lucia island to increase small farmers' access to financial services.
Since the market collapse, small farmers have turned to producing fresh fruits and vegetables for sale to local supermarkets and the burgeoning hotel and resort industry. Many hotels continue to buy foodstuffs offshore, but as hotels began to fill for the region's Cricket World Cup games this month, suppliers have found an insufficient supply to meet the increased demand.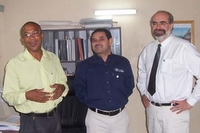 (l-r) Lucius Ellevic, Laborie Credit Union manager, Calderón and Brian Branch, WOCCU chief operating officer.
Farmers such as Olivia Felicien and her father have found Laborie Credit Union ready to lend a helping hand in financing new endeavors that enable them to support their families but have found it difficult to maintain a livelihood supplying to the hotel industry.
"Hotels are difficult to sell to," Felicien pointed out. "They receive the produce and give us a receipt, but we cannot collect cash until 60 or 90 days have passed."
World Council, IICA and OAS FCU have initiated a joint project to help small farmers meet this market demand. IICA will assist farmers in producing consistent quality vegetables, train farmers in building greenhouses and help farmers comply with international standards. Through the credit union, farmers will be able to receive immediate cash advances with a receipt of delivery from the hotels. The credit union will then collect on the receivable from the hotel within 90 days, depositing the remaining cash directly to the members' savings account.
"Financing agriculture is always risky," Laborie Credit Union manager, Lucius Ellevic, said. "But if we can help our members buy land, put in irrigation systems, build greenhouses or construct piggeries, we help them reduce those risks and grant them greater security."
Brian Branch, World Council chief operating officer, explained: "OAS FCU and World Council will assist Laborie to strengthen operations and introduce agribusiness lending products around the six- to 12-week production cycles of local crops with appropriate risk management to protect the soundness of the credit union."
A group of people marginalized from the traditional financial sector founded Laborie Credit Union in 1976 as a community development initiative. Today, Laborie Credit Union is a rural community credit union whose more than 7,000 members are predominately farmers and fishermen. It is the third largest of 16 total credit unions on St. Lucia that serve a total of 56,000 members.
World Council of Credit Unions is the global trade association and development agency for credit unions. World Council promotes the sustainable development of credit unions and other financial cooperatives around the world to empower people through access to high quality and affordable financial services. World Council advocates on behalf of the global credit union system before international organizations and works with national governments to improve legislation and regulation. Its technical assistance programs introduce new tools and technologies to strengthen credit unions' financial performance and increase their outreach.
World Council has implemented 300+ technical assistance programs in 89 countries. Worldwide, 68,882 credit unions in 109 countries serve 235 million people. Learn more about World Council's impact around the world at www.woccu.org.