Credit Unions Launch Peru's First Member-owned ATMs
March 02, 2010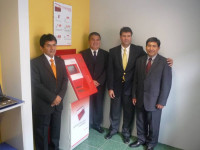 Celebrating Peru's first credit union-owned ATMs at Santa María Magdalena credit union in Ayacucho were (from left) James Chira, Kuskanet general manager; Miguel Zevallos, FENACREP board president; Mark Cifuentes, WOCCU VP of technical services; and Roque Montero, Santa María Magdalena board president.
AYACUCHO, Peru — In this town of about 150,000 people in south-central Peru, Santa María Magdalena credit union celebrated the launch of its first automatic teller machines (ATMs) last week. It was a landmark achievement for the US$50 million-asset institution, which is piloting ATMs for expansion to credit unions throughout the country.
"The ATM launch puts Peru's credit unions on par with other financial institutions in a race to the forefront," said Mark Cifuentes, World Council of Credit Unions' (WOCCU) vice president of technical services, who was present at last week's event. "The credit unions' goal has always been to offer members the same services bank clients receive. The ATMs help bring them the financial dignity all people deserve."
Santa María Magdalena's ATMs mark the next step forward for Peru's first credit union-owned network, launched in October 2008 as "Kuskanet." Derived from the indigenous word kuska, meaning "together," Kuskanet is a credit union services group wholly owned by WOCCU; Federación Nacional de Cooperativas de Ahorro y Crédito del Perú (FENACREP), which is Peru's national credit union association and a WOCCU member; and mostly rural credit unions.
By pooling resources to meet its members' demands, Kuskanet is able give credit unions the tools necessary to offer the same financial services as banks at more affordable rates. When Kuskanet launched just over a year ago, there were no credit unions in the country that offered ATM or debit card services. Very few credit unions were able to provide members the opportunity to perform inter-branch transactions, which were possible only through credit union-to-credit union agreements. Shared supply and demand among network members has enabled small credit unions to cost-effectively offer new products and services.
Santa María Magdalena's ATMs will serve 60,000 members in largely rural areas, as well as members in urban centers near the coastal capital of Lima. Kuskanet chose Santa María Magdalena to pilot the ATMs because of its commitment to using new technology to expand product and service offerings to members. The Ayacucho-based credit union is currently the largest outside of the department, or state, of Lima.
There are three credit union-owned ATMs in operation today — one in Santa María Magdalena's main office, another in a branch office and the third at a different credit union farther north in Tarapoto.
Kuskanet currently offers ATMs, POS devices and shared branching services to its 20 member credit unions. On March 6, Kuskanet will celebrate ATM launches in Rioja province, an area high in poverty that is situated between the Amazon rain forest and the Andes Mountains. The network plans to install 45 credit union-owned ATMs and 200 POS devices throughout Peru by the end of the year.
Kuskanet grew out of WOCCU's first technical assistance program in Peru, funded by the U.S. Agency for International Development (2006 - 2009). The program focused on expanding credit union outreach to the rural poor, developing market-driven financial products and services, establishing the shared branching network and facilitating market linkages among producers, traders and merchants through value chain financing.
"Working closely with FENACREP, WOCCU's program in Peru laid the foundation for the advancements we celebrated in Ayacucho last week," said Brian Branch, WOCCU executive vice president and COO. "Farmers, small business owners and people living in rural areas are now experiencing financial access as they thought only bank clients could."
World Council of Credit Unions is the global trade association and development agency for credit unions. World Council promotes the sustainable development of credit unions and other financial cooperatives around the world to empower people through access to high quality and affordable financial services. World Council advocates on behalf of the global credit union system before international organizations and works with national governments to improve legislation and regulation. Its technical assistance programs introduce new tools and technologies to strengthen credit unions' financial performance and increase their outreach.
World Council has implemented 300+ technical assistance programs in 89 countries. Worldwide, 68,882 credit unions in 109 countries serve 235 million people. Learn more about World Council's impact around the world at www.woccu.org.