Credit Unions Must Dare to Be Different, Harvard Professor Says
Monday's speakers stress differentiation, messaging to World Credit Union Conference crowd
July 16, 2012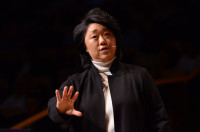 Creating something different is often more important than creating something better, Harvard University's Youngme Moon told general session participants.
GDAŃSK, Poland — When it comes to capturing market share, success is not always about creating something better, according to marketing expert Youngme Moon, the Donald K. David Professor of Business Administration and chair of the Harvard University MBA program. Sometimes it is about creating something different.
Moon, author of Different: Escaping the Competitive Herd, shared her differentiation message with Monday's general session audience at World Council of Credit Unions' World Credit Union Conference, currently under way at the Polish Baltic Philharmonic Hall in Gdańsk. Moon pointed her message directly at the global credit union movement, stressing the need — as well the opportunity — for financial cooperatives to stand apart from the crowd.
"Right now there is a once-in-a-generation opportunity to grow your membership," Moon said in her keynote presentation. "There is disarray in the financial services industry, dissatisfaction among consumers, and the biggest financial institutions generate the most distrust. But are you different from your competitors in a way that's easily understood by consumers?"
Businesses have a tendency to make changes in lockstep with their competitors, Moon noted, which makes them no more than another provider in an already crowded field. Companies able to capitalize on their differences — even to the point of emphasizing their perceived negatives in their product or service portfolio — stand a better chance of creating a persona unlike that of competitors and truly setting themselves apart. Add to that a commitment to members, and credit unions stand a better chance to differentiate their enterprises in distinctive and successful ways.
"You can't build a brand that's different without passion," Moon said. "For credit unions, differentiation comes from a sense of irreplaceability, and that will create a strong sense of loyalty."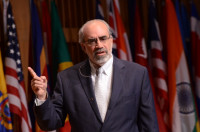 Credit unions thrive when they consider what is best for the member, Brian Branch told his general session audience.
Loyalty to credit unions from members, as well as from credit unions to their members, has been an essential part of the global credit union movement's success, according to Monday opening speaker Brian Branch, World Council president and CEO. Branch shared credit union stories from Colombia and Mexico to Sri Lanka and Kenya, stressing the commonalities in member needs from country to country and culture to culture and how credit unions strive to meet them.
"It is all about what is best for the member," Branch told the general session audience. "As credit unions, we have a set of values that champion the common person and emphasize the financial empowerment of those members."
In recent years, two themes have emerged critical to the future of credit union success, according to Branch. The first is messaging and the growing need to articulate the credit union advantage in ways that are compelling and attractive to consumers. The second is increased accessibility, defined as delivering credit union services remotely and generally through handheld electronic devices to members whenever and wherever they need them. These and other key attributes will help define the credit union difference, Branch stressed.
"We operate locally and cooperate globally," Branch said. "This is how we will build a credit union community."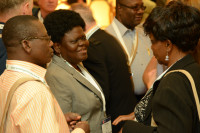 Between educational sessions, participants learned even more by networking with their peers.
Monday finished with a variety of breakout sessions that followed learning tracks on leadership and strategy, technology and innovation, compliance and regulation and international credit union movement trends. Specific sessions focused on redefining board member roles; meeting new compliance standards, including Basel III guidelines; and creating a "mobile wallet" to help introduce financial services to the rural poor.
The 2012 World Credit Union Conference runs through July 18. It will include a panel discussion featuring credit union leaders and regulators from three countries striving to seek common solutions, a closing general session presentation by Bank 2.0 author Brett King, World Council's annual awards ceremony and a closing night reception at the historic Gdańsk shipyard, the birthplace of Poland's Solidarity movement.
Follow conference activities, including daily event photos, at World Council's Facebook page: www.facebook.com/woccu.
World Council of Credit Unions is the global trade association and development agency for credit unions. World Council promotes the sustainable development of credit unions and other financial cooperatives around the world to empower people through access to high quality and affordable financial services. World Council advocates on behalf of the global credit union system before international organizations and works with national governments to improve legislation and regulation. Its technical assistance programs introduce new tools and technologies to strengthen credit unions' financial performance and increase their outreach.
World Council has implemented 300+ technical assistance programs in 89 countries. Worldwide, 68,882 credit unions in 109 countries serve 235 million people. Learn more about World Council's impact around the world at www.woccu.org.