Credit Unions Recognized Among Canada's Top Performing Companies
February 15, 2007
Madison, WI—Among the recently released list of Canada's top 50 best managed companies, three credit union organizations were recognized for their business excellence: Servus Credit Union, Coast Capital Savings Credit Union and Concentra Financial, a credit union service organization.
The 50 Best Managed Companies is a national awards program that recognizes businesses from a wide range of industries that have implemented world-class best practices. To even qualify, companies must demonstrate superior results for the past three years and have revenues of more than $10 million a year and be 50% closely held by Canadians or be Canadian-owned public companies with no more than 50% of their shares publicly traded.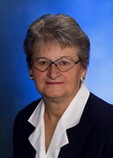 Penny Reeves, Servus Credit Union and World Council of Credit Unions board member
Penny Reeves, Servus Credit Union and World Council of Credit Unions board member explained, "The recognition of three credit union organizations clearly demonstrates the ability of Canada's credit union movement to compete with the best that our country has to offer. To achieve the designation as one of the 50 Best Managed Companies in a country as large and diverse as Canada is an incredible accomplishment. Competition for this prestigious designation is keen and on a three-year ongoing basis, not simply a single year's accomplishments."
Myrna Bentley, president and CEO of Concentra Financial, also believes that a big part of why they continue to qualify for this award is due to the quality of their people. "We are honored to be viewed as among the very best in the country," said Bentley. "This award recognizes the caliber of our people and our management practices. It is indeed a team effort that has enabled us to be placed within this select circle of Canadian businesses."
"If you think traditional values don't pay off in business anymore, think again. These three organizations demonstrate efficiency, hard work and integrity in dealing with customers and employees alike. It is a model of success among companies reaching for the highest standards," said John Hughes, Partner, Deloitte, a national sponsor of the Best Managed program.
Information about Canada's 50 Best Managed Companies is available online at www.canadas50best.com.
World Council of Credit Unions is the global trade association and development agency for credit unions. World Council promotes the sustainable development of credit unions and other financial cooperatives around the world to empower people through access to high quality and affordable financial services. World Council advocates on behalf of the global credit union system before international organizations and works with national governments to improve legislation and regulation. Its technical assistance programs introduce new tools and technologies to strengthen credit unions' financial performance and increase their outreach.
World Council has implemented 300+ technical assistance programs in 89 countries. Worldwide, 68,882 credit unions in 109 countries serve 235 million people. Learn more about World Council's impact around the world at www.woccu.org.