Credit Unions in the Carolinas Reach Out to Underserved Hispanic Community
April 27, 2007

Latino Community Credit Union attracts an average of 1,000 new members every month. Photo courtesy of Latino Community Credit Union.
Madison, WI—World Council of Credit Unions' (WOCCU) international remittance program staff recently visited Founders Federal Credit Union in Lancaster, South Carolina and Latino Community Credit Union in Durham, North Carolina to get a closer look at how the institutions are bringing local Hispanic communities into the financial mainstream.
When it comes to serving the Hispanic community, Founders FCU CEO Bruce Brumfield said, "You can't be afraid to fail. Every experience, whether positive or negative, should be viewed as a learning experience." Brumfield's credit union is proving that US credit unions are well positioned to serve the growing Hispanic market in the United States.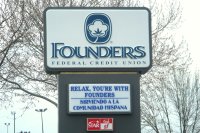 A Founders FCU branch office in Lancaster, South Carolina, hires Spanish-speaking employees and offers international money transfers for free.
While both credit unions are serving Hispanics successfully, their origins differ dramatically. Founders FCU, with more than US$1 billion in assets and 147,000 members, was established more than 50 years ago to serve textile industry workers and began embracing the Hispanic market two years ago as a new way to drive growth. On the other hand, Latino Community Credit Union, with over US$48 million in assets and 50,000 members, was built from the ground up in 2000 to serve the growing Hispanic population in North Carolina.
Though they have different beginnings, the two credit unions' current growth strategies are based on the same successful principles and actions:
Driving the initiative from top executives with support from staff, managers and board members;
Getting involved in the local community through events and sponsorships;
Hiring staff who can communicate effectively with Hispanics and earn the trust of potential members;
Creating an inviting and comfortable environment for the new market;
Providing the Hispanic community with equal access to financial services;
Establishing simple, efficient processes for becoming a member, applying for loans and sending remittances;
Promoting flexibility in operations and outside-the-box thinking.
"There is no one-size-fits-all model," commented Sal Estrada, assistant vice president at Founders FCU. "It is crucial that each credit union examine the needs of its local community to customize its approach and effectively serve new members."
Both credit unions emphasized the importance of being flexible and adapting to their local communities' needs. "We don't rely only on formal business plans," said Luis Pastor, CEO of Latino Community Credit Union. "It is critical for us to respond continuously to the evolving needs of our community."
In serving the underserved, Founders FCU and Latino Community Credit Union have earned reputations that expand well beyond the Hispanic community. Their efforts have captured the attention of other immigrant groups as well—a true indication that both credit unions have created environments in which unbanked consumers feel welcomed into the financial mainstream. "The face of our community is changing, and it is changing forever," Brumfield added. "This is a long-term commitment, and we are doing what credit unions are supposed to be doing: helping people. We won't know if we have succeeded for quite some time, but we do know that we continue to grow."
Founders FCU and Latino Community Credit Union offer international money transfer services through WOCCU's remittance program. For information on how your credit union can offer international remittances, contact Meghan Olisar, WOCCU remittance specialist, molisar@woccu.org
World Council of Credit Unions is the global trade association and development agency for credit unions. World Council promotes the sustainable development of credit unions and other financial cooperatives around the world to empower people through access to high quality and affordable financial services. World Council advocates on behalf of the global credit union system before international organizations and works with national governments to improve legislation and regulation. Its technical assistance programs introduce new tools and technologies to strengthen credit unions' financial performance and increase their outreach.
World Council has implemented 300+ technical assistance programs in 89 countries. Worldwide, 68,882 credit unions in 109 countries serve 235 million people. Learn more about World Council's impact around the world at www.woccu.org.