Debate Over Savings Highlights WOCCU Pacific Technical Congress
Current Legislation Hampers Efforts for Savings Growth in South Pacific Nations
September 22, 2010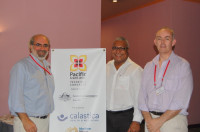 WOCCU Executive Vice President and COO Brian Branch (from left), Federation of Savings and Loan Societies Ltd. of Papua New Guinea (FESALOS) board Chair Michael Koisen and Credit Union Foundation Australia (CUFA) CEO Peter Mason met at WOCCU's Pacific Credit Union Technical Congress in Papua New Guinea last week. FESALOS became WOCCU's newest member in April 2010.
PORT MORESBY, Papua New Guinea — Increasing demand for savings products throughout the South Pacific, spurred by the global financial crisis, is colliding with local legislation, curbing credit unions' abilities to meet member needs. Savings accessibility and other critical issues formed the focus of World Council of Credit Unions' (WOCCU) Pacific Credit Union Technical Congress, co-hosted by the Credit Union Foundation Australia (CUFA) and the Federation of Savings and Loan Societies LTD of Papua New Guinea (FESALOS).
A total of 84 participants from Australia, the Federated States of Micronesia, Fiji, Papua New Guinea, Solomon Islands, Timor Leste, Tonga, Tuvalu, Vanuatu and the United States gathered last week in Port Moresby for the three-day event. Lively discussion greeted sessions that ranged from the changing financial marketplace to increasing scrutiny from regulators to global trends in financial regulation. The topics also attracted local television news coverage.
In terms of savings, credit unions in the South Pacific are responding to an increasing demand for savings products, but savings growth is being hampered by legislation that caps the interest rates for credit union savings accounts near 7%, while the inflation rate hovers near 10%. Banks have no restrictions on the savings account interest rates they can offer, causing credit unions difficulty competing for savings market share under the current limiting legislation. Pacific credit unions are further burdened by a cap on loan interest rates of 1% per month and are working to adjust to greater regulatory scrutiny regarding their compliance with accounting standards, capital and liquidity requirements and consumer protection standards, a situation that sounded familiar to conference participant Alan Cameron, president and CEO of the Idaho Credit Union League and Affiliates.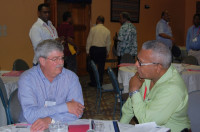 "In Idaho, loan interest rates were once limited by state legislation," said Cameron, who offered participating credit unions training in advocacy and lobbying strategies during the event. "We had to show legislators that the interest rate controls prevented credit from flowing into Idaho and providing funding for local economic activity. When the limits were removed we had funding for more jobs and economic activity."
While credit unions in the South Pacific have not experienced the investment or delinquency losses that have affected other regions of the globe, they face increasing consumer pressure to demonstrate more professional management and internal governance. CUFA and WOCCU are working with the newly formed Oceanic Confederation of Credit Union Leagues to provide management certification training to credit union leaders and continuing education through the Pacific Congress. The two-year Manager Certification Program, held in conjunction with the congress each year, graduated 14 participants who completed their second year last year in Fiji and a initiated a new group of 42 credit union leaders from Fiji, Papua New Guinea and Timor Leste.
"Credit unions in the South Pacific are under tremendous pressure to update their model to keep consumer confidence, comply with regulations and compete with new technology," said Brian Branch, WOCCU executive vice president and COO. "While the values of financial empowerment remain constant, the financial model, the products and the technology evolve."
The recently formed Global Women's Leadership Network held a half-day Leadership Development Workshop preceding the congress for women credit union executives and board members who are interested in expanding their leadership capacity. Of the 23 female congress participants, 18 women participated in a series of team building exercises, group discussions and presentations that focused on strategic thinking, increasing self-confidence and improving public-speaking skills.
For more information on the Women's Network, visit CUwomen.org. 
World Council of Credit Unions is the global trade association and development agency for credit unions. World Council promotes the sustainable development of credit unions and other financial cooperatives around the world to empower people through access to high quality and affordable financial services. World Council advocates on behalf of the global credit union system before international organizations and works with national governments to improve legislation and regulation. Its technical assistance programs introduce new tools and technologies to strengthen credit unions' financial performance and increase their outreach.
World Council has implemented 300+ technical assistance programs in 89 countries. Worldwide, 68,882 credit unions in 109 countries serve 235 million people. Learn more about World Council's impact around the world at www.woccu.org.