Dolores Rivera Ramírez Wins Global Women's Athena Award
July 17, 2012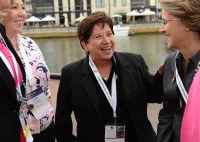 Dolores Rivera Ramírez (center) has received the 2012 Athena Award from the Global Women's Leadership Network.
GDAŃSK, Poland — Dolores Rivera Ramírez, general manager of Caja Zongolica in Veracruz, Mexico, has won the Global Women's Leadership Network's 2012 Athena Award. Rivera was honored with the annual award at the Global Women's Leadership Forum, held in conjunction with World Council of Credit Unions' World Credit Union Conference taking place this week in Gdańsk, Poland.
The annual award, named for the Greek goddess of wisdom, courage, inspiration, justice and strength, honors outstanding achievement in support of credit union development, particularly as it relates to worldwide credit union women's leadership development. Rivera has consistently proven herself a key leader in the international movement since starting a credit union in 1994 to meet the needs of poor residents in her rural community in Mexico's Veracruz state. Under her leadership, the credit union has grown to more than 40,000 members.
Rivera has worked with World Council since 2003 to implement savings mobilization and outreach programs in Mexico. She was among the first to help pilot handheld transaction technology to deliver financial services remotely to credit union members in rural Mexico, a program that has already begun to expand to other countries.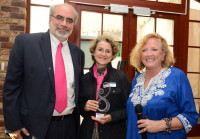 Gabriela Zapata (center) accepted the Athena Award for Rivera, whose travel delays made her unable to attend the ceremony. Zapata shares the moment with World Council President and CEO Brian Branch and Global Women's Leadership Network Chair Sue Mitchell.
"The future of financial services lies in electronic delivery to members when and where they want those services," said Brian Branch, World Council president and CEO. "The success of Caja Zongolica and the transferability of the lessons they learned will help move the global credit union movement forward in important and meaningful ways."
Caja Zongolica capitalized on its existing Semilla Cooperativa [Cooperative Seed] program, through which the credit union delivers services by sending representatives to members in remote areas where they live and work. Rivera helped expand the World Council program and credit union outreach using handheld transaction devices, an experience she shared with Global Women's Leadership Forum participants in Las Vegas in 2010. Based on information gained during that presentation, Ventura County Credit Union in Ventura, Calif., USA, successfully adapted the program to serve local farm laborers.
"This award feeds my soul, but I share it with my board and staff because no one reaches a certain level of success alone. It encourages me to duplicate my efforts on behalf of those who need it most, something I do so full-heartedly," said Rivera, whose travel plans delayed her from attending the Saturday awards ceremony. International development professional Gabriela Zapata, consultant with the Consultative Group to Assist the Poor, accepted the award on Rivera's behalf.
The Global Women's Leadership Network, co-founded by World Council of Credit Unions and the Canadian Co-operative Association, is designed to provide women with the opportunity and resources to make a measureable difference in each other's lives, as well as in their credit unions and communities. The international network, which meets annually in conjunction with the World Credit Union Conference, engages members with professional and personal development through social media and educational forums and provides the tools for women to connect and seek confidential advice from their peers.
For more information and to become a member of the network, visit www.CUwomen.org.
World Council of Credit Unions is the global trade association and development agency for credit unions. World Council promotes the sustainable development of credit unions and other financial cooperatives around the world to empower people through access to high quality and affordable financial services. World Council advocates on behalf of the global credit union system before international organizations and works with national governments to improve legislation and regulation. Its technical assistance programs introduce new tools and technologies to strengthen credit unions' financial performance and increase their outreach.
World Council has implemented 300+ technical assistance programs in 89 countries. Worldwide, 68,882 credit unions in 109 countries serve 235 million people. Learn more about World Council's impact around the world at www.woccu.org.