Early Bird Deadline Approaching for World Credit Union Conference
Attendees from more than 20 countries already registered
April 26, 2012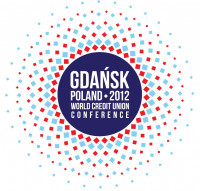 The World Credit Union Conference "early bird" deadline is May 10. This year's conference will be held July 15-18 in Gdańsk, Poland.
MADISON, Wis. — Time is running out to take advantage of the "early bird" deadline for World Council of Credit Unions' 2012 World Credit Union Conference in Gdańsk, Poland, July 15-18, 2012. On May 10 the registration fee will increase US$200 per attendee.
Conference attendees will have the opportunity to connect with peers from around the world; hear from leading business minds Youngme Moon, Harvard University professor, and mobile banking guru Brett King, who are driving change in and outside the credit union industry; and take in a history-buffs paradise with sightseeing tours that will leave attendees in awe of the beauty and historical significance of Gdańsk.
"This summer we also have the pleasure of joining Poland's credit unions, Spoldzielcze kasy oszczędnościowo-kredytowe or better known as SKOKs, in celebrating their 20th anniversary," said World Council President and CEO Brian Branch. "What started as a small grassroots effort has grown to become one of the most successful and respected credit union systems in the world and attendees will have the chance to see this amazing transformation firsthand and celebrate its success."
In addition, this year's conference features local credit union visits, compelling breakout sessions packed with field-tested solutions, The Worldwide Foundation for Credit Unions' charity golf tournament, the third annual Global Women's Leadership Forum and countless opportunities to network and build a strong professional network that will continue long after attendees leave Gdańsk.
A companion program and wide variety of sightseeing tours are also scheduled for guests to join in this year's activities and spaces are still available on the pre-tour, July 10-14, from Kraków to Gdańsk and the post-tour which will head to St. Petersburg, Russia, July 19-22, after the conference. Tours are filling quickly so early registration is recommended.
Register on or before May 10 to take advantage of discounted registration fees. Visit www.LetsGdansk2012.org for more information about the conference and to register for the event. Hotel space is limited and early registration is encouraged.
World Council of Credit Unions is the global trade association and development agency for credit unions. World Council promotes the sustainable development of credit unions and other financial cooperatives around the world to empower people through access to high quality and affordable financial services. World Council advocates on behalf of the global credit union system before international organizations and works with national governments to improve legislation and regulation. Its technical assistance programs introduce new tools and technologies to strengthen credit unions' financial performance and increase their outreach.
World Council has implemented 300+ technical assistance programs in 89 countries. Worldwide, 68,882 credit unions in 109 countries serve 235 million people. Learn more about World Council's impact around the world at www.woccu.org.
NOTE: Click on photos to view/download in high resolution.