Earthquake Strikes Credit Unions in Peru
WOCCU Activates Disaster Relief Fund
August 16, 2007

Wednesday night's 7.9-magnitude earthquake caused many buidlings to collapse in Peru's southern coastal cities.
Madison, WI—Peru's coast was ravaged by a massive earthquake Wednesday night that killed at least 337 and injured more than 800 people. While the severity of the damage is still being assessed, World Council of Credit Unions (WOCCU) Program Director in Peru, Luis Jimenez, reports several credit unions have been damaged.
Manual Rabines, WOCCU Second Vice Chairman and CEO of the National Credit Union Association of Peru (FENACREP), announced that FENACREP is leading relief efforts for credit union members, distributing food and blankets, and will assist with rebuilding credit unions damaged by the quake.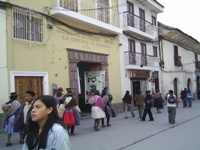 San Cristobal de Huamanga Credit Union (pictured here) suffered damage at two of its branches.
Authorities say hundreds of victims from Wednesday night's 7.9-magnitude quake are still trapped or stranded in coastal cities. Roads destroyed by the quake have hampered rescue efforts. Many buildings collapsed or suffered structural damage, including hospitals now overrun with victims in need of treatment.
President Alan Garcia declared a state of emergency Thursday morning, prompting international relief efforts. The situation has the potential to worsen if displaced credit union members and others do not receive necessary assistance.
WOCCU currently has a development program working with Peruvian credit unions to provide financial services to the rural poor, funded by the United States Agency for International Development (USAID). WOCCU, the Association of Vermont Credit Unions and FENACREP recently formed an international partnership as well. FENACREP is a long-time WOCCU member, with 163 member credit unions and 606,000 members.
World Council has led disaster relief and rebuilding efforts in response to past disasters such as the Asian tsunami in December 2004 and the Philippines landslide in February 2006. Following the tsunami, World Council led a US$1.5 million project to rebuild credit unions in Sri Lanka and to revitalize the national credit union league. Following the Philippines landslide in Leyte, World Council supported the local league's administration of "livelihood loans," small micro loans that helped credit union members and staff rebuild their homes and businesses.
World Council has activated its Disaster Relief Fund to provide assistance to credit union staff and members through FENACREP. Monetary contributions from credit unions and individuals are needed to provide assistance to those whose lives have been devastated by this terrible disaster.
To support the international credit union disaster relief fund and rebuilding of Peruvian credit unions, send payments by check, credit card or wire to:
Worldwide Foundation for Credit Unions, Inc.
5710 Mineral Point Road
Madison, WI 53705
Credit unions and individuals may make online credit card donations at www.woccu.org (click on 'Support WOCCU'). To send donations via wire transfer, contact Valerie Breunig, Worldwide Foundation for Credit Unions, 608-395- 2055/vbreunig@woccu.org. Please indicate your donation is designated for the 'Peru Disaster Relief Fund.'
World Council of Credit Unions is the global trade association and development agency for credit unions. World Council promotes the sustainable development of credit unions and other financial cooperatives around the world to empower people through access to high quality and affordable financial services. World Council advocates on behalf of the global credit union system before international organizations and works with national governments to improve legislation and regulation. Its technical assistance programs introduce new tools and technologies to strengthen credit unions' financial performance and increase their outreach.
World Council has implemented 300+ technical assistance programs in 89 countries. Worldwide, 68,882 credit unions in 109 countries serve 235 million people. Learn more about World Council's impact around the world at www.woccu.org.