Ecuador's CU Board Member Training Program Cultivates Good Governance
February 14, 2007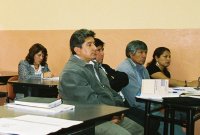 Credit union board members attend a COMDIR training session led by WOCCU-Ecuador's Oscar Guzmán in Ambato, Ecuador.
Madison, WI—While many factors contribute to the governance of an institution, good governance begins and ends with the board. As part of the national Credit Union Director Competencies (COMDIR) program in Ecuador, credit union board members participated in the first of six governance training sessions February 9-10 at Universidad Técnica de Ambato in Ambato, Ecuador.
The sessions in Ambato, about 90 miles south of Quito, comprise the third offering of the COMDIR program, which aims to further credit union growth, sustainability and governance by training board members on leadership, commitment, teamwork, planning, management and oversight. The six-weekend, 34-session program encourages board members to support processes of change and modernization in their credit unions, which in turn lead to growth and greater outreach.
Oscar Guzmán, World Council of Credit Unions (WOCCU)-Ecuador institutional development advisor, led ten credit union board members in the first two-day workshop on Roles and Responsibilities of Directors. Participants represented five different credit unions located in Ambato and Quito. Many of them were educators by profession with levels of credit union board experience ranging from three months to 14 years.
"Participating in the COMDIR program, I hope to better function as president of the board and share with board members what I learn at the workshop in terms of laws and norms," said Maria Teresa Ruíz, board member of Coop Sagrario in Ambato and one of two women who attended the training last week. Participants saw COMDIR largely as a platform to share credit union governance best practices.
World Council collaborates with both local and other international organizations to deliver the COMDIR program. CEDECOOP, an organization specialized in professional development for credit unions, and Red Financiera Rural, a national network with rural credit union membership, are responsible for implementation. The academic and oversight committee includes WOCCU-Ecuador, CEDECOOP, Swisscontact and the German Cooperative and Raiffeisen Confederation (DGRV). The Louisiana Credit Union League worked with World Council in the early stages of the program to develop the COMDIR curriculum and training materials.
In order to be regulated by the financial sector regulator, credit unions must meet a minimum asset size. Given this stipulation, World Council estimates that approximately 80% of credit unions in Ecuador lack proper regulation. The COMDIR program seeks to educate board members of both regulated and non-regulated credit unions to promote sound institutions throughout the system.
Since COMDIR's inception in October 2005, 68 credit union board members have attended one of the three COMDIR programs in Guayaquil, Riobamba and Ambato. The second session in Ambato will be after the Carnival holiday, March 2-3.
World Council's USAID-funded Ecuador project and Cooperative Development Program support the COMDIR program.
World Council of Credit Unions is the global trade association and development agency for credit unions. World Council promotes the sustainable development of credit unions and other financial cooperatives around the world to empower people through access to high quality and affordable financial services. World Council advocates on behalf of the global credit union system before international organizations and works with national governments to improve legislation and regulation. Its technical assistance programs introduce new tools and technologies to strengthen credit unions' financial performance and increase their outreach.
World Council has implemented 300+ technical assistance programs in 89 countries. Worldwide, 68,882 credit unions in 109 countries serve 235 million people. Learn more about World Council's impact around the world at www.woccu.org.