European Network of CUs and World Council Board Meet with EU Officials on Basel III and Ukraine
April 08, 2014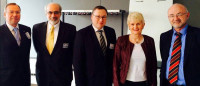 From left to right: Paweł Grzesik, National Association of Cooperative Savings and Credit Unions director of Warsaw office (Poland); Brian Branch, World Council president and CEO; Grzegorz Bierecki, World Council chairman; Marian Harkin, MEP (Ireland); Brian McCrory, World Council director and Irish League of Credit Unions treasurer.

BRUSSELS — World Council of Credit Unions' board of directors united in Brussels, Belgium, last week with representatives from the European Network of Credit Unions (ENCU) to advocate before European Union (EU) authorities for better legislative and regulatory outcomes for credit unions throughout the region prior to the 2014 European Parliamentary elections this May. Issues discussed with EU policymakers included the EU's implementation of the Basel III liquidity rules, a draft EU directive on the automatic exchange of tax information which is modeled on the United States' Foreign Account Tax Compliance Act (FATCA), and the EU's aid package to Ukraine.
"World Council's European members face complex regulatory challenges that require constant communication with regulators and policymakers to protect their countries' credit unions' interests," said Brian Branch, World Council president and CEO. "With the European Network of Credit Unions' help, World Council will continue giving credit unions a global voice to influence standards that apply at national, regional and international levels."
The group met with Marian Harkin, Irish member of the European Parliament (MEP) and vice president of the European Democratic Party, for advice on effective strategies to achieve positive credit union legislation in the face of the EU's upcoming elections. She encouraged widespread efforts to raise awareness about credit unions with MEPs and the European Commission.
Although the EU's legislative schedule has slowed because of the impending elections, ENCU and World Council met with the European Commission about the European Banking Authority's December report to the Commission, which recommended revising the Basel III liquidity rules to help credit unions maintain access to favorable yields on banks term deposits. In addition, ENCU and World Council met with Commission and EU Council representatives regarding the EU's draft tax information reporting directive modeled on FATCA, which the EU plans to implement by 2017.
ENCU and World Council also met with EU policymakers regarding the possibility of the EU including aid to Ukrainian credit unions as part of its over €11 billion Ukraine support package. There are over 600 credit unions in Ukraine with nearly 1.1 million members.
ENCU member organizations participating in the Brussels meeting included the Association of British Credit Unions, Ltd., the Estonian Union of Credit Cooperatives, FULM Savings House (Macedonia), the Irish League of Credit Unions and the National Association of Co-operative Savings & Credit Unions (Poland).
ENCU is a network of national credit union associations in Europe and World Council representatives who educate and engage with EU policymakers and other stakeholders on legislation that affects credit unions. ENCU was formally established in 2010 and is based in Brussels. Learn more at www.creditunionnetwork.eu.
World Council of Credit Unions is the global trade association and development platform for credit unions. World Council promotes the sustainable development of credit unions and other financial cooperatives around the world to empower people through access to high quality and affordable financial services. World Council advocates on behalf of the global credit union system before international organizations and works with national governments to improve legislation and regulation. Its technical assistance programs introduce new tools and technologies to strengthen credit unions' financial performance and increase their outreach.
World Council has implemented 300+ technical assistance programs in 89 countries. Worldwide, 89,026 credit unions in 117 countries serve 260 million people. Learn more about World Council's impact around the world at www.woccu.org.