European Network of CUs and World Council Board Meet with EU Officials on Basel III and Ukraine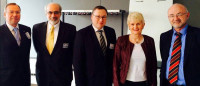 From left to right: Paweł Grzesik, National Association of Cooperative Savings and Credit Unions director of Warsaw office (Poland); Brian Branch, World Council president and CEO; Grzegorz Bierecki, World Council chairman; Marian Harkin, MEP (Ireland); Brian McCrory, World Council director and Irish League of Credit Unions treasurer.

BRUSSELS — World Council of Credit Unions' board of directors united in Brussels, Belgium, last week with representatives from the European Network of Credit Unions (ENCU) to advocate before European Union (EU) authorities for better legislative and regulatory outcomes for credit unions throughout the region prior to the 2014 European Parliamentary elections this May. Issues discussed with EU policymakers included the EU's implementation of the Basel III liquidity rules, a draft EU directive on the automatic exchange of tax information which is modeled on the United States' Foreign Account Tax Compliance Act (FATCA), and the EU's aid package to Ukraine.
"World Council's European members face complex regulatory challenges that require constant communication with regulators and policymakers to protect their countries' credit unions' interests," said Brian Branch, World Council president and CEO. "With the European Network of Credit Unions' help, World Council will continue giving credit unions a global voice to influence standards that apply at national, regional and international levels."
The group met with Marian Harkin, Irish member of the European Parliament (MEP) and vice president of the European Democratic Party, for advice on effective strategies to achieve positive credit union legislation in the face of the EU's upcoming elections. She encouraged widespread efforts to raise awareness about credit unions with MEPs and the European Commission.
Although the EU's legislative schedule has slowed because of the impending elections, ENCU and World Council met with the European Commission about the European Banking Authority's December report to the Commission, which recommended revising the Basel III liquidity rules to help credit unions maintain access to favorable yields on banks term deposits. In addition, ENCU and World Council met with Commission and EU Council representatives regarding the EU's draft tax information reporting directive modeled on FATCA, which the EU plans to implement by 2017.
ENCU and World Council also met with EU policymakers regarding the possibility of the EU including aid to Ukrainian credit unions as part of its over €11 billion Ukraine support package. There are over 600 credit unions in Ukraine with nearly 1.1 million members.
ENCU member organizations participating in the Brussels meeting included the Association of British Credit Unions, Ltd., the Estonian Union of Credit Cooperatives, FULM Savings House (Macedonia), the Irish League of Credit Unions and the National Association of Co-operative Savings & Credit Unions (Poland).
ENCU is a network of national credit union associations in Europe and World Council representatives who educate and engage with EU policymakers and other stakeholders on legislation that affects credit unions. ENCU was formally established in 2010 and is based in Brussels. Learn more at www.creditunionnetwork.eu.
El Consejo Mundial de Cooperativas de Ahorro y Crédito es la asociación gremial y agencia de desarrollo para el sistema internacional de cooperativas de ahorro y crédito. El Consejo Mundial promueve el crecimiento sustentable de las cooperativas de ahorro y crédito y otras cooperativas financieras en todo el mundo a fin de facultar a las personas para que mejoren su calidad de vida a través del acceso a servicios financieros asequibles y de alta calidad. El Consejo Mundial realiza esfuerzos de defensa activa en representación del sistema global de las cooperativas de ahorro y crédito ante organizaciones internacionales y trabaja con gobiernos nacionales para mejorar la legislación y la regulación. Sus programas de asistencia técnica introducen nuevas herramientas y tecnologías para fortalecer el desempeño financiero de las cooperativas de ahorro y crédito y profundizar su alcance comunitario.
El Consejo Mundial ha implementado 290 programas de asistencia técnica en 71 países. A nivel mundial, 57,000 cooperativas de ahorro y crédito en 105 países atienden a 217 millones de personas. Obtenga más información sobre el impacto global del Consejo Mundial en www.woccu.org.

NOTA: Oprima el botón del mouse sobre las fotografías para verlas/descargarlas en alta resolución.
Contacto principal:
Michael Edwards
Organización:
World Council of Credit Unions
Correo electrónico:
medwards@woccu.org
Teléfono:
+1-202-508-6755