First Latin American Members Regional Forum an "Overwhelming Success"
July 07, 2006

Guatemalan representatives visit Coopealianza Credit Union.
SAN JOSE, Costa Rica—More than 230 Latin American credit union leaders attended the first World Council of Credit Unions, Inc. (WOCCU) Latin American Members Regional Forum June 21-22 in San Jose, Costa Rica. The landmark event was funded by the David L. Chatfield International Training Fund.
The purpose of the forum was to highlight innovative practices from credit unions within Latin America and the United States. To encourage participation, the forum was offered for free to all members and supporters. Sparked enthusiasm for the event drew close to 100 more participants than originally planned.
Patrick Truninger, formerly of the California Credit Union League and now Vice President – Dealer Direct with Arrowhead Credit Union, presented a session describing indirect auto- lending, a practice not yet done in Latin America.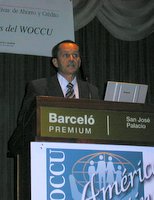 CEO Manuel Bolaños, FEDEAC, gives a presentation on the Costa Rican movement's experience of crisis and recovery.
CEO Rocío Miyashiro presented ABACO Credit Union's innovative approach to helping small, Peruvian businesses receive lines of credit and payments from vendors that sell their products in the market.
A presentation from Manuel Bolaños, CEO of Costa Rica's FEDEAC, helped participants learn from past crises situations in Costa Rica's movement and offered preventative measures Latin American credit unions could take for future crises.
SINCREDI's João Tavares shared its experience and success with agriculture lending in Brazil.
The Forum also offered tours of four Costa Rican credit unions in San Jose. Attendees were so interested in the tours that they overbooked.
"These kinds of events are of great importance for the development and strengthening of the Latin American movement and the projects that WOCCU supports," Liliana Rinckoar, CEO of Confiar in Colombia and a forum presenter, commented. "Supporting credit unions allows us to reach out to more people in our countries."
WOCCU Senior Manager of Association Services, Dave Grace, echoed Rinckoar's comments. "During the Forum, I was personally shocked to learn how little interaction there is among credit union and federation leaders in Central and South America," he said. "The networking at these events is as equally important as business practices, and populations are increasingly fluid in Central America. This forum will make great strides in helping credit unions share information."
The David L. Chatfield International Training Fund was created by the California and Nevada Credit Unions Leagues to provide professional training in areas such as lending, technology and governance, to credit union professionals in the developing world. Representatives from Ecuador, Panama, Mexico, Guatemala, Costa Rica, El Salvador, Brazil, Nicaragua, Peru, Dominican Republic, Colombia and the Confederation of Latin American Credit Unions broke out in applause in recognition of the leagues and the Chatfield Fund in making the meeting possible.
WOCCU CEO Pete Crear, who attended the event, applauded its overwhelming success. "The meeting was a terrific showcase of WOCCU's capability, far exceeding our initial attendance goal, and featured topics for a progressive credit union movement like Latin America's," he said. "This meeting easily became the standard by which others will be judged."
For more information on how to make a U.S. tax- deductible contribution to the David L. Chatfield International Training Fund, please contact Valerie Breunig, Worldwide Foundation Funds Manager, 608-231-7353 or vbreunig@woccu.or g .
World Council of Credit Unions is the global trade association and development agency for credit unions. World Council promotes the sustainable development of credit unions and other financial cooperatives around the world to empower people through access to high quality and affordable financial services. World Council advocates on behalf of the global credit union system before international organizations and works with national governments to improve legislation and regulation. Its technical assistance programs introduce new tools and technologies to strengthen credit unions' financial performance and increase their outreach.
World Council has implemented 300+ technical assistance programs in 89 countries. Worldwide, 68,882 credit unions in 109 countries serve 235 million people. Learn more about World Council's impact around the world at www.woccu.org.