Inicio > Sala de Noticias > Boletines Noticiosos



April 30, 2016
Sala de Noticias // Boletines Noticiosos
20 de julio de 2005
Former WOCCU Board Member David Chatfield Recognized at AACUL Meeting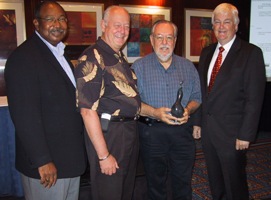 (l-r) WOCCU president Pete Crear, first vice chairman Gary Plank, former director Dave Chatfield, and board chairman L.R. (Bobby) McVeigh
Madison, WI - Last week David Chatfield, former World Council of Credit Unions, Inc. (WOCCU) board member, was recognized at the summer meeting of the Association of American Credit Union Leagues (AACUL) in New York with a award presented by WOCCU for his service on the WOCCU board.
Chatfield, first elected to the board in 2000, represented the U.S. credit union movement as a delegate of Credit Union National Association (CUNA). At the time of his resignation, he was serving on the Bylaws & Policies Committee and the Board of Directors of the Worldwide Foundation for Credit Unions, Inc. He has also participated on World Council technical teams to Poland and Hungary, and is an avid supporter of domestic and international credit union development.
Chatfield has been involved in credit unions for more than 36 years, beginning as a volunteer elected official of a small credit union. On March 1, 1991, he became president and CEO of the California Credit Union League. On January 1, 1996, he also became president of the Nevada Credit Union League. He has held also held the post of executive director of the Filene Research Institute and received the 1997 individual Herb Wegner Memorial Award, presented annually by the National Credit Union Foundation (U.S.).
WOCCU board chairman L.R. (Bobby) McVeigh gave the meeting participants an overview of Chatfield's career, including his many "credit union firsts," and acknowledged his contribution to World Council. Chatfield was a significant presence on the WOCCU board and, in particular, the Legislative Affairs Committee. In recognition of his service, McVeigh presented Chatfield with a plaque and an original Canadian Inuit carving of a loon, reflecting his love of fishing.
McVeigh also thanked the U.S. state leagues for their involvement in and dedication to WOCCU's International Partnerships Program, currently 20 strong (17 signed partnerships and 3 new relationships). He spoke of the dramatic need to assist emerging credit union systems in Asia and Eastern Europe and encouraged the development of more league and individuals credit union partnerships in the future.
El Consejo Mundial de Cooperativas de Ahorro y Crédito es la asociación gremial y agencia de desarrollo para el sistema internacional de cooperativas de ahorro y crédito. El Consejo Mundial promueve el crecimiento sustentable de las cooperativas de ahorro y crédito y otras cooperativas financieras en todo el mundo a fin de facultar a las personas para que mejoren su calidad de vida a través del acceso a servicios financieros asequibles y de alta calidad. El Consejo Mundial realiza esfuerzos de defensa activa en representación del sistema global de las cooperativas de ahorro y crédito ante organizaciones internacionales y trabaja con gobiernos nacionales para mejorar la legislación y la regulación. Sus programas de asistencia técnica introducen nuevas herramientas y tecnologías para fortalecer el desempeño financiero de las cooperativas de ahorro y crédito y profundizar su alcance comunitario.
El Consejo Mundial ha implementado 290 programas de asistencia técnica en 71 países. A nivel mundial, 57,000 cooperativas de ahorro y crédito en 105 países atienden a 217 millones de personas. Obtenga más información sobre el impacto global del Consejo Mundial en www.woccu.org.