ICU Day 2004 An International Success!
October 21, 2004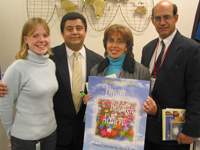 l-r: Nicole Bice, WOCCU Latin American program specialist; William Bonilla, WOCCU CPD manager; Adriana McAllister, CFO, Deposit Guarantee Fund for Financial Co-operatives - FOGACOOP (Colombia); Jorge Bermudez Salazar, FOGACOOP take time from the World Council ICU Day celebrations to pose for photo
The World Council of Credit Unions headquarters in Madison, Wisconsin, was buzzing with activity on October 21, as staff and guests celebrated International Credit Union. The main event was a visit by representatives from Colombia's Deposit Guarantee Fund for Financial Cooperatives (FOGACOOP), general director Jorge Bermudez and chief financial officer Adriana McAllister.
WOCCU hosted an extensive potluck lunch for their guests, featuring dishes from around the world prepared by World Council's employees. To add to the festivities, staff members were encouraged to dress in ethnic garb. The traditional clothing styles of Mexico, the Republic of Georgia, Africa, Jamaica, Spain and other nations were represented, and prizes were awarded to those who dressed up. The WOCCU Washington, DC office celebrated ICU Day by participating in a joint event with the Credit Union National Association on Capitol Hill. Click to view
Around the world, credit unions and leagues found creative ways of their own to celebrate ICU Day. Some held youth-oriented activities, such as the Fiji Nursing and Associates Credit Union's launch of their new "Minors Membership" program, which opens the credit union to young savers, or the Castlemilk Credit Union in Scotland's sponsoring of a new play area for children. Others chose to honor credit union leaders of the past, like the Scottish League of Credit Unions' dinner for the late credit union leader Bert Mullen, or host volunteer opportunities, like the Empire Corporate Federal Credit Union's annual blood drive.
Luncheons and dinners were common, as were radio and newspaper publicity. The response to all these activities was overwhelmingly positive, making members feel connected to their credit union community and the larger movement. As a representative from the Welsh credit union Caia Park reported, "Many [members] had no idea that they were part of such a large movement!" To see how other credit unions celebrate International Credit Union Day visit the WOCCU website at www.woccu.org/icuday.
World Council of Credit Unions is the global trade association and development agency for credit unions. World Council promotes the sustainable development of credit unions and other financial cooperatives around the world to empower people through access to high quality and affordable financial services. World Council advocates on behalf of the global credit union system before international organizations and works with national governments to improve legislation and regulation. Its technical assistance programs introduce new tools and technologies to strengthen credit unions' financial performance and increase their outreach.
World Council has implemented 300+ technical assistance programs in 89 countries. Worldwide, 68,882 credit unions in 109 countries serve 235 million people. Learn more about World Council's impact around the world at www.woccu.org.